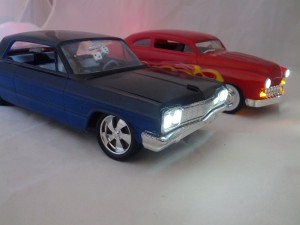 Year in Review/Preview
Year in Review/Preview
---
Wow! What a year. 2013 had a number of amazing milestones for PoweredPlay Gaming, and 2014 is likely to be gangbusters as well.
What went down in 2013
To start things out, we launched! That's right, our little company is about to celebrate its one year anniversary a little later this month. In such a short time, we were able to design, develop, test, and launch our products to market.
We learned how NOT to run a Kickstarter, and could probably write a book on how much we got wrong. But, we righted the ship and successfully ran our second Kickstarter, hitting our goal within an hour, and our first stretch goal in 3. When all was said and done, we had launched our Alpha and Spotlight LED kits, 12 different color options, mini 9V batteries, and our Fiber Optic Sampler kits. Not only did we launch our core products, we delivered to our Kickstarter supporters around the world with minimal delays.
We also began retail sales, and delivered in time for Gencon. Since then, we've signed three global distributors (Warpath, E-Figures, Aetherworks) and over 50 game stores in the US (we know of) carrying our products – with more signing up regularly. Additionally, we launched our Web store, our Amazon store, and our eBay channel to distribute our products widely. We even expanded into the traditional scale hobby markets with introductions into the IPMS community.
We grew up from a garage-based startup to having our own assembly and office space, and we added Justin McCoy of Secret Weapon Miniatures to our team of advisors.
Micro-controllers
For those of you who have been waiting this news, we completed design and development of our micro-controller prototypes. We recently made a few changes to the final design which meant that we had to QC the new components which is delaying our launch. But for those of you who have already purchased them, be happy that you got a HUGE discount from our estimated MSRP. As soon as we have a delivery date from our manufacturer, we'll be opening up pre-orders with a discount.
What's going down in 2014
This year is going to be jam-packed with company announcements, over 12 new SKUs and product launches, events and new retailers/distributors signing up.
The first announcement we'll be making is the launch of our new Model Car Kits. Similar to our Alpha Kits, these come equipped with the LEDs, Battery Connector and Switch to make your model cars light up. They will include one string each of white, yellow and red 3mm LEDs – making it easy to create headlights, tail lights and turn indicators/running lights.
We're also busy developing a range of new products – including the previously mentioned "Powered Bases" in conjunction with Secret Weapon Miniatures. Be on the lookout for launch announcements as we get close.
We're also finalizing our schedule of all of the events where we're sponsoring and participating at in the coming year. From IPMS, to tabletop gaming, modeling classes and seminars, we're hitting the pavement hard in 2014.
Stay tuned for more updates as we have them, and have a Happy New Year!
#LetThereBeLight!
The post Year in Review/Preview appeared first on PoweredPlay Gaming.