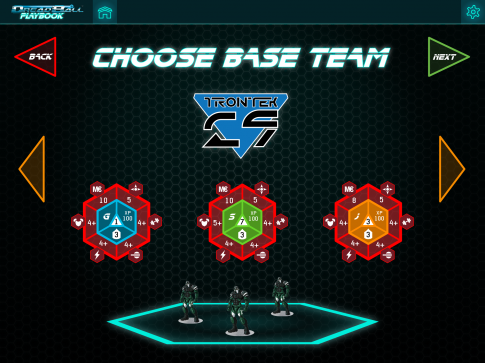 Welcome to the future of DreadBall…
Welcome to the future of DreadBall…
---
Okay, here we go. This is one of the most exciting things I've posted about in ages. Several months ago we were approached by a chap called Andrew from a company called Purple Guerrilla, who had some crazy ideas about what we could be doing with our DreadBall rulebook. Skip forward to today; we find ourselves on the edge of something awesome. What's it all about? I'll let the man himself explain it all…
Purple Guerrilla
Purple Guerrilla (http://purpleguerrilla.com) was founded by a group of former teachers who wanted to make better eTextbooks. They might not the sort of people you'd expect to know about building digital versions of rulebooks for games, but their experience in education means they know how people use books – and more importantly, how people want to use ebooks. It helps that we're big fans of DreadBall too! (It's officially more fun than High School Chemistry).
As we say, "Our aim is to make reading digital books as natural and easy as reading a paper copy, but without resorting to gimmicks."

Mantic Digital eBooks
Mantic Digital is all about buying once and reading anywhere. That means every book and companion app will work as well on the web as on your tablet, smartphone and even on e-Ink devices like the Kindle.*
Gaming eBooks tend to fall under three categories: straight-from-print PDFs (such as the current Mantic titles available from Wargame Vault), cut-down EPUBs,  and bells-and-whistles, iPad-only iBooks. Today, we introduce the fourth category: mobile-ready, interactivity-rich media eBooks powered by our cross-platform eReading engine, Reactor. [Translation – ultra cool interactive books FROM THE FUTURE! – James]
Mantic Digital eBooks will have all of the following features:
Easy to navigate. You can jump between sections, or even books, by accessing the menu and choosing the relevant sub-heading.
Definition popups. Want to know what the Misdirect ability does? Press on it to get pop-up rule details without losing your place.
Media galleries. See beautifully painted miniatures in high definition!
It's alive! Your Mantic Digital purchase will automatically update with the latest FAQs and Errata.
Buy once, read anywhere.

Once you've made your purchase, you can read your rulebook on Android, iOS, Kindle* and more.

Mobile ready.

Unlike a lot of online rulebooks, Mantic Digital products will adapt to any screen size – even a smartphone. 

Beautifully (re)designed pages.

Digital content doesn't have to be ugly, and we've used Mantic's art resources to give the books some real character.

Stream or download. 

Save space on your device by streaming, or access your rulebook anywhere with a download – it's up to you.
*Not all functionality is available on e-Ink devices, but we've still packed in as many features as technically possible and built them with the same attention to detail as their parent books.

Companion Apps – The DreadBall Playbook
The DreadBall Playbook is a new type of gaming app that lets you cut down on in-game "paperwork" without taking away from the fun, or slowing down the game. It's a team builder and gaming companion that can keep track of your score, while showing your player stats abilities and keeping track of their actions. It also lets you access your Mantic Digital content from within the Playbook itself when you need to check a rule or consult a chart.
It's got all these features and more on the way!
Team builder. Choose from famous teams like the Trontek 29ers and Greenmoon Smackers, or build your own.
In-Game Reference. The playbook shows legal actions and abilities for ever member of your team.
Game Tracker. As the game progresses, the playbook keeps track of actions, strikes and kills and updates your roster accordingly.
Easy Access. With a few taps you can easily look up definitions for abilities directly from the the PlayBook.
More to come! League management software, stats tracking and plenty more will roll out over the next few months…
There we go. Who's excited? I mean, I certainly am. The Purple Guerrilla guys are incredibly talented, and every time I have a look at what they're doing I can hardly believe the level of technology that's going on. Our first Mantic Digital releases will be made available on 27th January, and will include all three existing DreadBall rulebooks as well as the new Azure Forest book. There will also be – most exciting of all – a Compendium edition which brings everything together into a single volume – all the rules are together, all the teams are together, and so on. As I said – Excited!
Watch this space for more details…