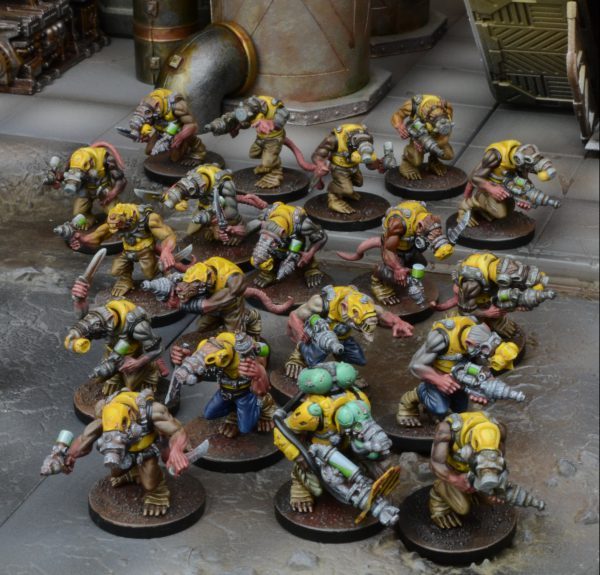 The Universe expands!
The Universe expands!
---
Following on from the recent 2nd Edition of the sci-fi skirmish game Deadzone, the Warpath Universe expanded range is now available to pre-order!

Warpath Universe is an affordable range of high quality science-fiction figures compatible with Deadzone, our forthcoming Warpath mass battle game in early 2017.
There are three new kits that have never been available separately before – the Enforcer scouts known as Pathfinders, updated Forge Father Steel Warriors (that can also be built as Stormrage Veterans and Rekkhyrrs) and the rat-like Veer-Myn Nightcrawlers. Also available are the Veer-Myn Progenitors and the re-release of the Forge Father Brokkrs and the GCPS Strider – that can be used with Enforcers, Plague or Rebs, too!
These are perfect for Deadzone players looking to expand their Strike Teams, those wanting to get started with Warpath or add characterful additions to any miniatures collection!
All of the rules for playing games with these models are included in the Deadzone 2nd Edition Rulebook, which is available separately or as part of the Deadzone boxed game. You can also use them with the Warpath Beta rules available to download from our Free Rules page!
We're also supporting Deadzone with the release of the brand new Organised Play kit. This pack allows you to run one day Deadzone event in stores and clubs with rules for rankings, prizes for winners and an exclusive rules sheet for a new Deadzone Mercenary – the Enforcer Captain Black. If you want to get your friend together and give it a go, just ask your store to contact their Mantic Trade Representative to order a copy.
The Warpath Universe release will continue into September with light vehicles and a huge Plague release in October, alongside the return of a Deadzone Expansion.
---
You can find all of these great kits in the Warpath Universe section of the webstore. They'll be shipping and available in local retailers from the 22nd of August!
The post The Universe expands! appeared first on Mantic Blog.