Modufab Kickstarter now 250% Funded – Modular, Flat Packable 3D Terrain
Modufab Kickstarter now 250% Funded – Modular, Flat Packable 3D Terrain
---
 Welcome to Modu-Fab by Watcorp Designs – get to the kickstarter here

Check us out on Facebook, Twitter and Instagram or at www.WatcorpDesigns.com
What's the only draw back with the ability to print any terrain you want when you want? – Space!
After a few years of printing terrain for myself and previous kickstarter projects, as well as assembling plastic kits I was beginning to run out of space to store terrain.
That's why I developed the Modu-FAB terrain. It uses a hook and click system to allow walls and pillars to be quickly and easily assembled into sturdy buildings.
Just because the terrain is flat packable I didn't want to miss out on detail or variety, which is why I have spent a long time working on high detail walls with a wide variety of designs, as well as accessories like gantries, walk ways, balconies and cranes to make the world a greater 3d dimensional feel.
All parts can be assembled, disassembled and re-assembled without glue or the need for fiddley joining clips for a different layout every game. 
 More combinations than my maths can handle – more than 10,000 possible variations – Enough variety to make everything from cranes to fortified bunkers
Hook N Play connections allow rapid assembly and dissasembly for easy, space saving storage between games
Parts lock securely together using our innovative Hook N Play connection system 
All parts fully tested on a range of Cartesian and Delta FDM printers. The majority of these are entry level printers with no fancy modifications – you don't need a top of the range printer to get great results with these files
All parts come pre-orientated for optimal printing and print without any support. No more fiddley and dangerous clean up
I believe that every board scenery should help tell the story rather than just be something to block line of sight. That's why the Modu-FAB terrain was developed as a series of "Themed" file packs.
New wall, Floor, roof and accessories will be added with the stretch goals and every  1 is 100% compatible with one another – each theme can be combined to create even more combinations as the Kickstarter progresses.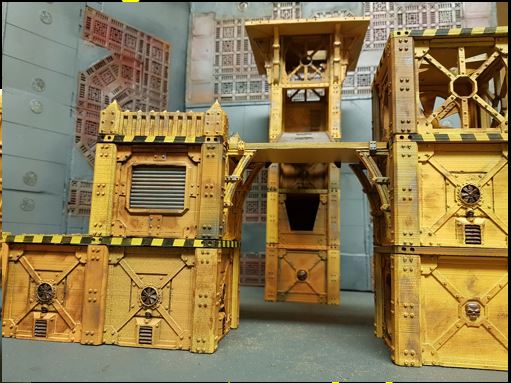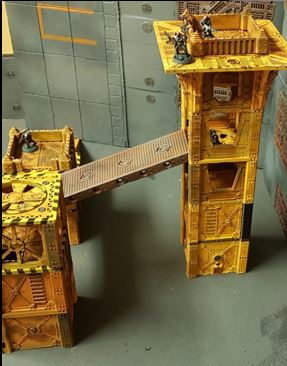 Theme 1 is the industrial zone – ideal as a loading dock, warehousing area, or any downtrodden industrial zone.
135 files in total (with more being added all the time)

All pillar variants (19 different shapes and styles)

17 wall sections

Large and small sliding doors

Curved sections for silos

Round silo roofs

Square roofs and floors

Square "open" floors for frame construction

Connecting gantries and ramps to move between levels

Supported projecting floors and balconies

Stairs to move between Modu-FAB levels and to connect to different manufacturers terrain

Ground level walkways and ramps

Rotatable crane with sliding hook assembly

Roof top walls

Butresses

Wall and roof mounted pipes
The Industrial Zone contains 17 wall sections to allow a wide variety of buildings from industrial zones to dwellings, shops or bunkers
Each wall is a 72mmx72mm square section.
Further wall styles will be added as part of the stretch goal themes
Also included are 19 different pillar arrangements and styles to allow a huge variety of building sizes and styles.
 There are a range of support pillars to cover every eventuality  – T junctions, cross-junctions, right angles and end of wall pillars to allow a huge variety of designs.
The innovative slotting design allow the rapid assembly and disassembly of the hook and play system.
 Each roof Section is 5mm thick and comes in a large variety of shapes and styles to allow maximum modularity
The "roof" pieces can also be used as floor tiles for internal floors or as the base for a structure.
"Open" style floor/ceiling frames are also part of the Industrial theme. These allow tower cranes or scaffolding style constructions, as well as reducing print time if a hollow building with no internal floors is needed.
 In the interest of Health and Safety, as well as to provide cover a range of different rooftop walls are also included to finish off the buildings
Corner and straight support struts allow an extra dimension to constructions, for use as walkways or loading platforms.
 Each features a hexagonal area that can be filled with a variety of options details (These parts are printed separately so they can be done in high resolution whilst the bulk of the platform can be printed at lower resolution for faster print times)
Structures can be connected with modular walkways. These feature the same optional details as the balconies and can be connected to buildings using the wall adapter piece
Sloped and flat gantry sections to connect structures and levels.
 In addition to square buildings the Industrial theme also include 4 curved walls allowing construction of curved silos.
 Also included are open, closed and domed floor/ceiling sections
The Silo wall sections also feature a "breakout" piece to connect to the square building designs, further increasing terrain possibilities
2 sets of sliding doors – 1 double wall width and 1 single wall width. Both feature functioning sliding doors
Wall hooking pipe sections and an over-roof connection for adding cover and extra detail.
Rotating rooftop crane with sliding hook
2 styles of butresses – 1 narrow and 1 wider. The 2 can be stacked for double height buttresses.
3 varieties of stairs included – Modu-fab height stairs and 2 sets to connect to other popular terrain heights
Additional sets of pipes and connections. Ground level pipes and connectors as well as smoke stacks and reactor vessels
Pipes include pipe sections multi angle connectors with built in control panels as well as Reactor Vessels with pipe connections. 
Tops for reactor vessels and pipe nexuses are also interchangeable for more customization.
Also included are modified roof pipes for more connection points and walls with pipe mountings
Security Walls and Guard Towers. Includes an energy gate and a traditional armored gate
Whole new set of walls, floors, roofs and accessories
13 walls including cells with opening doors

2 different floor styles

Additional roof styles

modular rooftop armoured fences

weapons lockers, shelves, control consoles and an electric chair

 

additional

butresses
Narrower corridor sections and half width walls to allow for more claustrophobic tunnel fighting/boarding actions. "corridor" floor sections can also function as roofs to allow for construction of wall sections
Meat processing plant featuring grinders, conveyors, additional wall, roof and door styles, along with other accessories
Upgrade to allow rooftop search lights, AA guns and antitank cannons to the roofs. Also additional armoured fence sections with firing ports for rooftops
Power Generator themed walls, floors roofs and doors featuring more high tech designs, along with power plant cooling towers and reactor cores.
Fortress themed upgrades – thicker, stackable wall sections to allow construction of formidable defences. Including gate houses, missile silos and additional accessories.
get on board with the kickstater here!