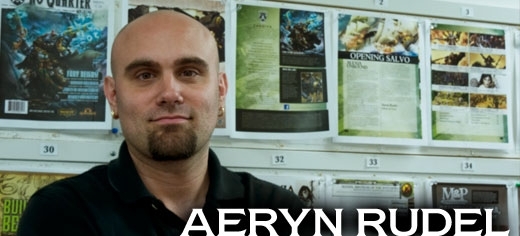 Insider 1-29-2014
Insider 1-29-2014
---
They say no man is an island—but I am. I'm the Publications Manager for Skull "Island." As you can probably guess, a big part of my job is charting the course, so to speak, for the imprint. Today, I'd like to share my rudders with you, and show you where 2014 will take Skull Island eXpeditions.
They Say You Can Hear the Ocean . . .
When Skull Island eXpeditions first set sail, one of the things people wanted to know was "Will there be audiobooks?" We're happy to announce that the answer is now "Yes!" We're working with Audible to bring you select audio titles from the Skull Island library. The first two audiobooks, Instruments of War and Into the Storm, both by New York Times bestselling author Larry Correia, will be released on February 4th.
More Adventures Just Over the Horizon
Of course, 2014 will see the release of more great Skull Island eXpeditions titles exploring the warcasters, warlocks, and other powerful characters who shape the Iron Kingdoms.
If you backed our Kickstarter campaign for the WARMACHINE: Tactics video game, you might already know about Rites of Passage. This anthology of short stories focuses on the six novice warcasters introduced in WARMACHINE: Vengeance. We'll take you to the blood-frothed seas with Aiakos, Scourge of the Meridius; to the Cygnaran front lines with Lieutenant Allison Jakes; and to the wild streets of Khadoran-occupied Llael with Gastone Crosse. Authors include the Iron Kingdoms scribe himself, Douglas Seacat, and even Privateer Press commander-in-chief Matthew D. Wilson.
Then we're heading to the frozen north for the next book in the Warlock Sagas, Mutagenesis. In this tense novella, author Orrin Grey—whom you may know from his ghoulishly fun tale about General Gerlak Slaughterborn in Called to Battle: Volume One—details the dark origin of the mighty Legion of Everblight warlock Thagrosh, Prophet of Everblight.
Finally, we're heading back to sea with the next installment of the Warlock Chronicles. Step aboard the Talion and join Captain Phinneus Shae and company for a bit of piracy Iron Kingdoms style with Blood & Iron. This rousing tale of high seas adventure is written by award-winning fantasy and science fiction author Chris A. Jackson.
Small Bites to Tide You Over
Because we know how hard it can be to wait for a new Skull Island release, we're introducing a line of short fiction called Iron Kingdoms Excursions to tide you over from one title to the next. Each release will feature three brief stories about the people, monsters, and machines of Immoren written by Privateer Press staff and your favorite Skull Island eXpeditions authors. Ever wonder what a Khadoran manhunter does with his spare time or what becoming a skorne immortal actually feels like? Iron Kingdoms Excursions will explore these questions and more, adding narrative depth and detail to the Iron Kingdoms.
We've only just begun to map these uncharted waters, and the coming year will certainly reveal more adventure and excitement. Keep an eye out for Skull Island blogs and updates on the Privateer Press website as well more news and announcements on the Skull Island eXpeditions Facebook page.
See you on the shore,
Aeryn