How Will the Monsterpocalypse Impact Your Store? How about as a Tabletop Model?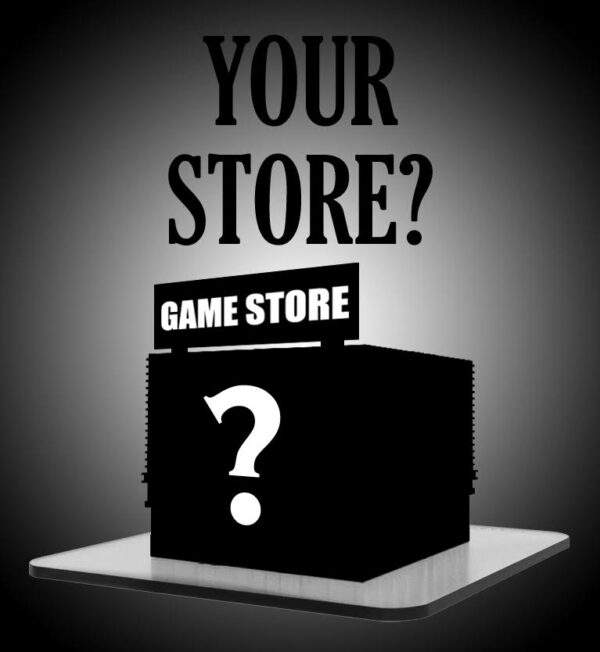 We want to put your store in the path of the Monsterpocalypse!
Just post photos of Monsterpocalypse happenings in your store to your store's Facebook page with the tag #MonPocMyStore, up to three times per week from mid-July to mid-August. Photos can include Monsterpocalypse being played, Monsterpocalypse being painted, or any other Monsterpocalypse-related community event. Each post gets you a chance to have your store featured as an upcoming Crush Hour kit Monsterpocalypse model!
#MonPocMyStore posts are limited to one per day up to three times per week. On August 31st, we'll draw a random winner from all entries received! We'll craft a special model of the winner's store (a literal rendition or an interpretation of your store's name), and then we'll include it in future Crush Hour kits for the whole world to protect or destroy!
Contest begins Monday, July 15th, 2019, and ends at 11:59 PM on Thursday, August 15th, 2019!
©2019 Privateer Press Inc.
ELIGIBILITY:  This Contest are open to anyone who is eighteen (18) years or older at the time of entry.  Void where prohibited by law. Winners of previous Privateer Press, Inc. Contest(s) are not eligible to win another Privateer Press contest within a 90-day period.
Employees, temporary employees, independent contractors of Privateer Press, Inc., their respective subsidiaries, parents, partners, other contest sponsors, advertising and promotional agencies (hereinafter "Contest Providers") and the immediate family members of each, are not eligible to win prizes.
HOW TO ENTER:    Participants must post Monsterpocalypse-related photos on Facebook with #MakeMeMonPoc for a chance to win.  Limit one per day with a maximum three different entries per week. Multiple entries by the same person under different usernames will result in disqualification. (see DEADLINES below) 
DEADLINES  
CONTEST: Privateer Press begins taking contest submissions July 15, 2019, and ends August 15, 2019.
No submissions will be accepted after the deadline for any reason. The sole determinant of time for the purposes of the Contest will be Privateer Press staff chosen timepiece. Contestants entering close to the posted deadline do so with this information in mind. Multiple submission of the same entry will result in disqualification.
No responsibility is assumed by Privateer Press, Inc., their respective partners, or other contest sponsors for lost, late, misdirected, or illegible entries or for any technical malfunctions that may occur. Potential winner may be requested to provide evidence that they are the person submitting the entry.
ODDS OF WINNING:  Odds of winning depend on the number of eligible entries received.
PRIZES 
The following prize(s) will be awarded for CONTEST:
One North American or Australian or one European Union participant and his or her chosen store will have the store represented as a MONSTERPOCALYPSE Crush Hour kit model.
No prize may be exchanged for cash, transferred, or assigned by the winner. Privateer Press reserves the right to substitute a prize, in which case a prize of equal or greater value will be awarded.
Winner(s) will be solely responsible for any and all local, state, and federal taxes, as well as license and registration fees, transportation costs, gratuities and other items of an incidental nature. Privateer Press, Inc. will report any individual winnings over $600 (in cash or fair market value of goods or services) in a one year period to the Internal Revenue Service. Winner(s) will receive a Form 1099 from Privateer Press, Inc. if Privateer Press, Inc. reports any winnings to the Internal Revenue Service. In order to be named a winner, potential winners may be required to execute and return an Affidavit of Eligibility/Prize Acceptance Form/Release of liability upon accepting a prize.  Noncompliance will result in disqualification and an alternate winner will be selected.
USE OF CONTEST INFORMATION:  Notwithstanding any contrary provision in any of Contest Providers' respective privacy policies, Contestants grant to Contest Providers, and Contest Providers reserve, the right to use any and all information related to the Contest, including information provided by Contestants in connection with the Contest, for marketing purposes or any other purpose, unless prohibited by law. Contestants grant to Contest Providers the right to use and publish their proper name and state of residence online or in any other media in connection with the Contest.  By accepting a prize, winner grants permission to Contest Providers to use his or her name, photograph, likeness, voice, prize information and/or biographical information for publicity and promotional purposes without future compensation unless prohibited by law.  By entering, participants release and hold harmless Contest Providers, affiliates, directors, officers, employees, and agents from any and all liability for any injuries, loss or damages of any kind arising from or in connection with the Contest(s) or any prize won. Restrictions, conditions and limitations apply.
CONDUCT:  By entering the Contest, you agree to be bound by these Official Rules. Contestants further agree to be bound by the decisions of the Contest Providers, which shall be final and binding in all respects. Contest Providers reserve the right at their sole discretion to disqualify any individual they find to be tampering with the entry process or the operation of the Web site; or to be acting in violation of the Official Rules.
You agree that in your participation in the Contest you will not use obscene, libelous or slanderous language, or language that infringes upon a third party's trademark, trade name or other intellectual property right or right of privacy. You agree to indemnify and hold harmless Privateer Press, Inc., its partners, or other contest sponsors, officers, consultants, agents, and employees against and from all claims, damages liabilities, costs and expenses asserted by third parties alleging that the Contest(s) includes obscenity, libel, slander, or infringes upon the third party's intellectual property or privacy rights, as a direct result of your actions in connection with the Contest(s). You further agree to not knowingly damage or cause interruption of the Contest(s) or to prevent others' participation in the Contest
LIMITATIONS OF LIABILITY:  Players assume all liability for losses or injuries caused or claimed to be caused by participating in the Contest, or by the acceptance, possession, use of, or failure to receive any prize.  Contest Providers are not responsible: (i) for any lost, late, illegible, incomplete, postage-due, misdirected or mutilated mail; or (ii) for any incorrect or inaccurate information, in the Contest or by any technical or human error that may occur in the processing of submissions in the Contest. Contest Providers assume no responsibility for an error, omission, interruption, deletion, defect, delay in operation or transmission, communications line failure, theft or destruction of authorized access to, or alteration of, entries. Contest Providers are not responsible for any problems or technical malfunction of any telephone network or lines, computer online systems, servers or providers, computer equipment, software, failure of e-mail or players on account of technical problems or traffic congestion on the Internet or at any Web site or combination thereof, including injury or damage to participants or to any other person's computer related to or resulting from participating or downloading materials in the Contest. If the Contest is not capable of running as planned for any reason, including legal restrictions, tampering, unauthorized intervention, fraud, technical failures, or any other causes beyond the control of Contest Providers that corrupt or affect the administration, security, fairness, integrity or proper conduct of the Contest, Contest Providers reserve the right to cancel, terminate, modify or suspend the Contest.
RULES / WINNERS LIST:  Official Rules and the name of the winner may be obtained by sending a self-addressed, stamped #10 envelope to: Privateer Press, Inc. 1705 136th Pl. NE Suite 120, Bellevue WA. 98005. Indicate "Monsterpocalypse Store Contest" on the outside of the envelope as applicable. Limit one (1) request per envelope. The request must include the name of the Contest. Winners List will be available 5 days after the winners are confirmed. Questions regarding this Contest may be addressed to: Privateer Press, Inc. 1705 136th Pl. NE Suite 120, Bellevue WA. 98005.
INTELLECTUAL PROPERTY:  The Contest and all of the related pages, contents and code are copyright Privateer Press, Inc., and/or their sponsors. The names, logos, and icons identifying the products and services of Contest Providers are proprietary marks of Privateer Press, Inc., all other trademarks are property of their respective owners. Copying or unauthorized use of any copyrighted material or trademarks without the express written consent of its owner is strictly prohibited.
GENERAL CONDITIONS:  This Contest(s) is subject to all federal, state, and local laws and regulations and is void where prohibited by law.