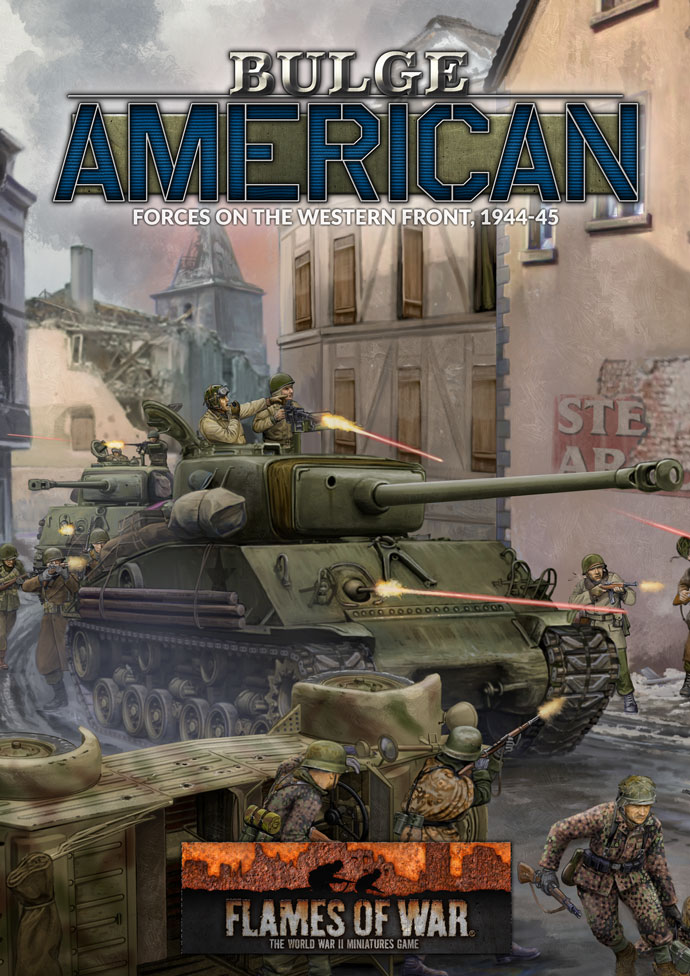 Flames of War Bulge American New Releases
Flames of War Bulge American New Releases
---
Bulge: American Forces on the Western Front, 1944-45
By September 1944 and the Allies have stormed across France. Patton's Third Army was poised to strike into Germany itself, with the 4th Armored Division in the lead. Hitler's new Panzer Brigades were diverted to meet the Americans in the Lorraine.
By early December 1944 it seemed unlikely that the Germans would attack. On 16 December that illusion was shattered when the might of German Sixth Panzer Army smashed into the thinly-held US lines in the Ardennes forests. In the central sector, the Germans approached the town of Bastogne on 19 December, defended by the veteran 101st Airborne Division. What followed was an epic seven-day struggle. On 26 December the siege was broken by the arrival of the 4th Armored Division.
American Spearhead Force (USAB11)
American Spearhead Force includes:
One Plastic M4 Jumbo (75mm) Jumbo (76mm) Tank
Four Plastic Easy Eight (76mm) Tanks
Two Plastic M26 Pershing (90mm) Tanks
Four Plastic M24 Chaffee (75mm) Tanks
Three Plastic M4 Sherman (Calliope) Launchers
Two Plastic M8 Greyhound (37mm) Armoured Cars
Two Jeep (MG) or Jeep (60mm)
One Parachute Rifle Platoon
Complete A5 Flames Of War rulebook
One US "Start Here" Guide
Two Decal Sheets
Eleven Unit cards.
Click here to go to the Flames Of War website and see the full spotlights…