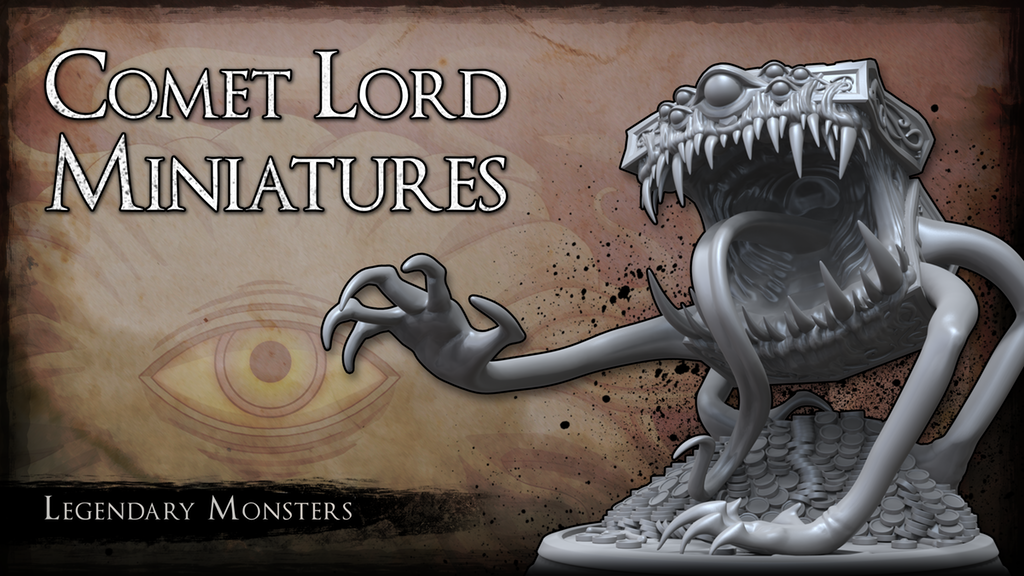 Comet Lord Miniatures: Legendary Monsters
Comet Lord Miniatures: Legendary Monsters
---
Comet Lord Miniatures: Legendary Monsters

Do you want The Eye Sovereign that views beholders as mere slaves to carry out its ill will? A mimic able to disguise itself as a regular sized chest as it waits to burst out and devour an unlucky adventurer whole?

Comet Lord Miniatures is seeking to fund the production of its first line of high quality resin miniatures through Kickstarter. This campaign started with two large scale miniatures, 'The Giant Mimic' and 'The Eye Sovereign'. Additional miniatures both regular and large scale can be unlocked through stretch goals, then easily added through the pledge manager. The 'Starspawn', 'The Comet Lord' and the 'Hollow Servant' have already been unlocked!

Comet Lord Miniatures reached its funding goal within 48 hours of launching, but has many more miniatures to unlock via stretch goals. The campaign ends on December 15 2017, current shipping estimates are for February 2018.
The miniatures are designed by Comet Lord Miniatures and manufactured by Nuclear Shrimp Games. The project is owned by Comet Lord Miniatures.