Loke Battle Mats are delighted to announce a new Modular RPG Map Book set – Towns & Taverns – Coming to hobby stores from January 27 2021.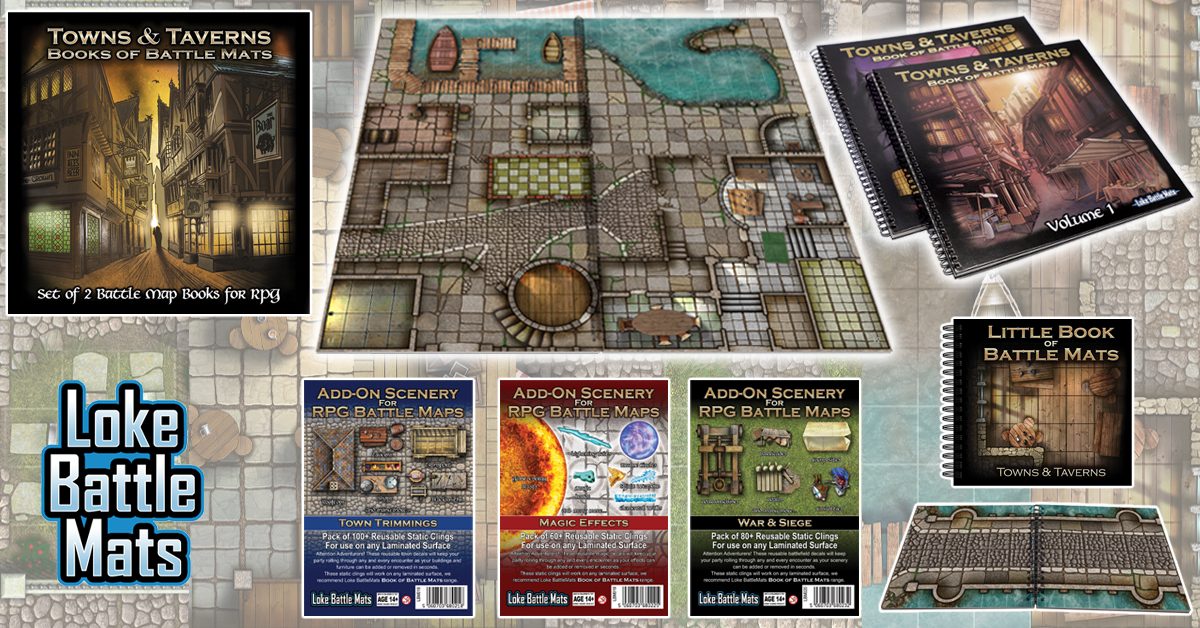 Modular RPG Map books for urban fantasy encounters! Books of maps that fit in your bag and on your shelf, just open & Roll! A huge Time Saver for DMs.
Towns & Taverns is the follow up to the ENnie award winning Dungeon. It features 80 modular maps which align in hundreds of ways to create epic evolving maps! Combining easy storage and portability with an epic 2'x2' map these offer an endless number of urban fantasy maps.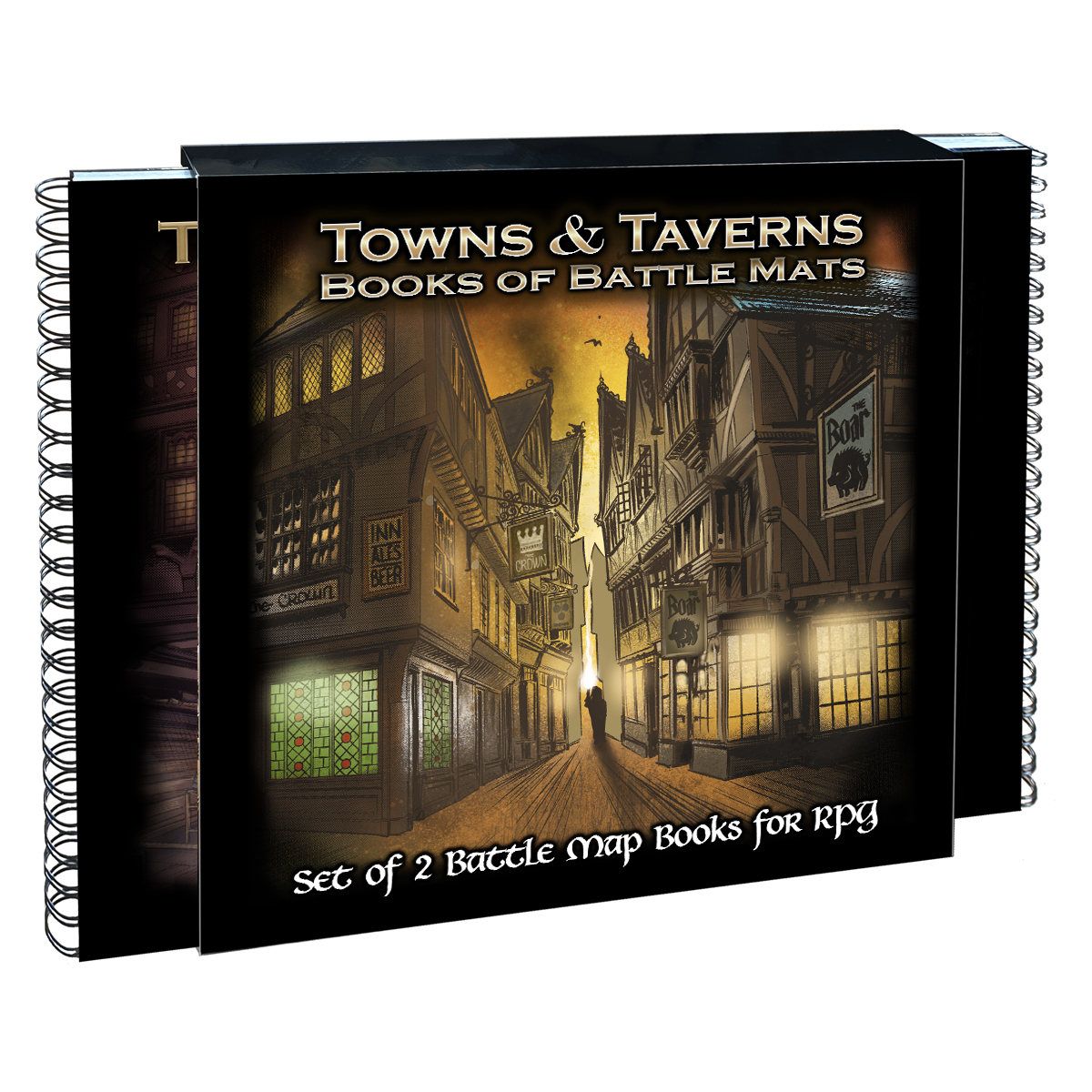 These 2 beautiful map books are fully Laminated throughout and thus wipe clean. They will save hours of game preparation time and mean no more hastily drawn mid game maps. Just open & roll on our highly detailed maps. Because the books open completely flat or fold in half they fit your space and adventure. It also means These books are 100% level so your adventure can move seamlessly across the map. 
Our linked designs feature standard entry & exit points so the books line up seamlessly allowing you to create your own maps from hundreds of combinations! Move seamlessly through alleyways, taverns, docks and coaching inns as your adventure unfolds.
Loke's range of books of battle maps are huge time savers for DMs and GMs. So no more hastily drawn maps pre and mid game, now you have books of beautifully illustrated, reusable maps for planned and surprise encounters!
For more information and to pre order please visit www.lokebattlemats.com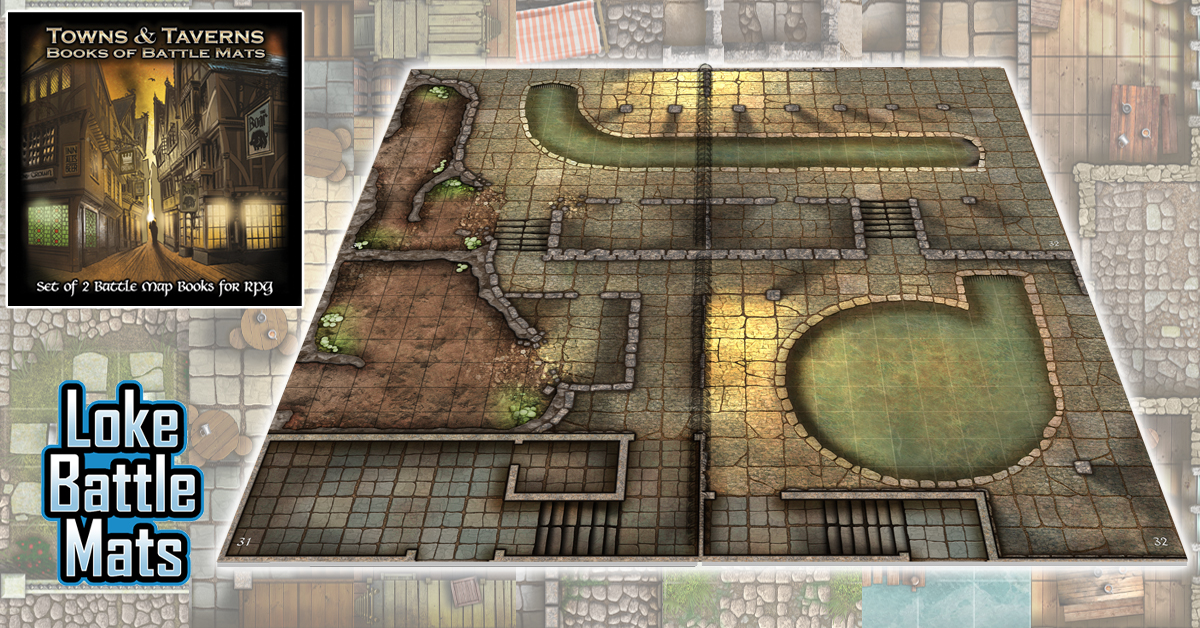 But there's more!
Also launching January 27 is the Little Book of Battle Mats – Towns & Taverns Edition. These pocket pubs are absolutely invaluable. alleyways, rooms, corridors, roads, paths, bridges and even ships are now at your fingertips. Ideal for adding to your maps, linking areas and level changes The Little Book is a must have!
Small enough to fit in your packet this book is the perfect size on its own for random encounters.
As well as Modular RPG Map books for urban fantasy encounters! Books of maps that fit in your bag and on your shelf, Loke also have a range of add-on scenery to customise maps in moments, a huge time saver.
Add-On Scenery for RPG Maps
Loke are also adding three new packs of reusable add-on scenery stickers to their existing range. These packs of reusable static clings customise any laminated map in moments! So you can replace your marker pen with beautiful reusable scenery to build your maps for any encounter! These are a huge time saver for DMs.
Town Trimmings
A set of 100+ features, furniture and roofs for RPG Maps. The roof stickers allow you to build a town on any plain map, and are also sizes to work with the buildings in Loke's Towns & Taverns book set. So you can prepare a map ahead of time or build a scene on the go.
Furniture stickers allow you to create shops, houses, taverns and trades on the go!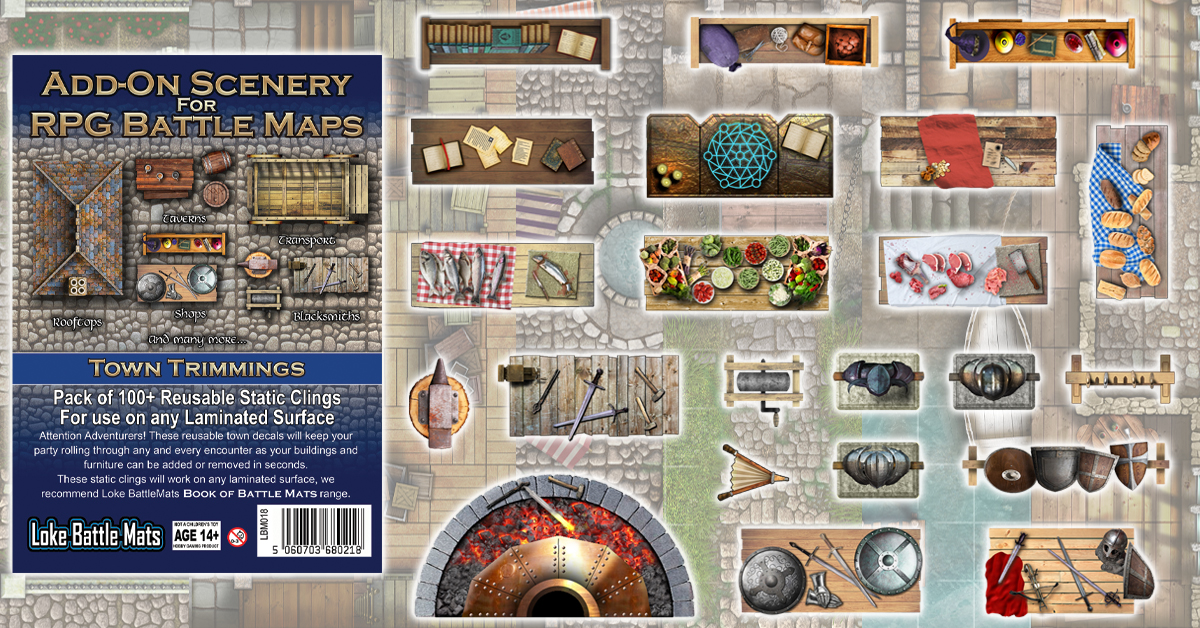 Magic Effects
60+ reusable stickers of our favourite magic effects. Fire, frost, missiles and magic weapons are all found within. So now you can see just how big that Fireball is!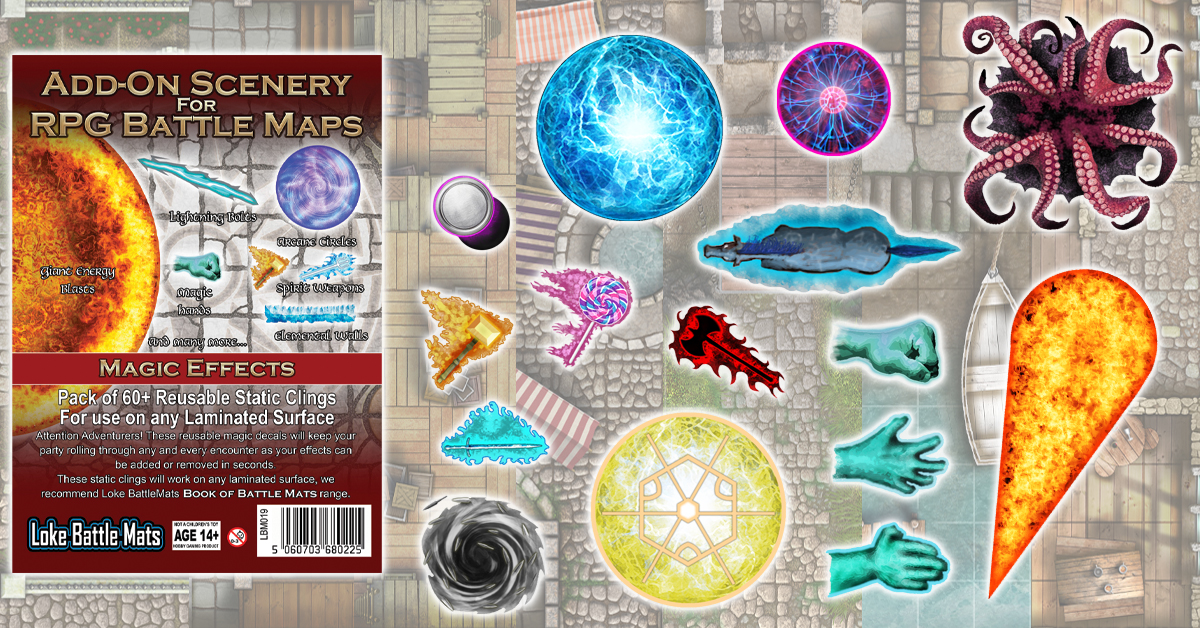 War & Siege
80+ reusable static clings of siege machinery, weapons, encampments, battlements and supplies. Allows you to build a military encounter in moments!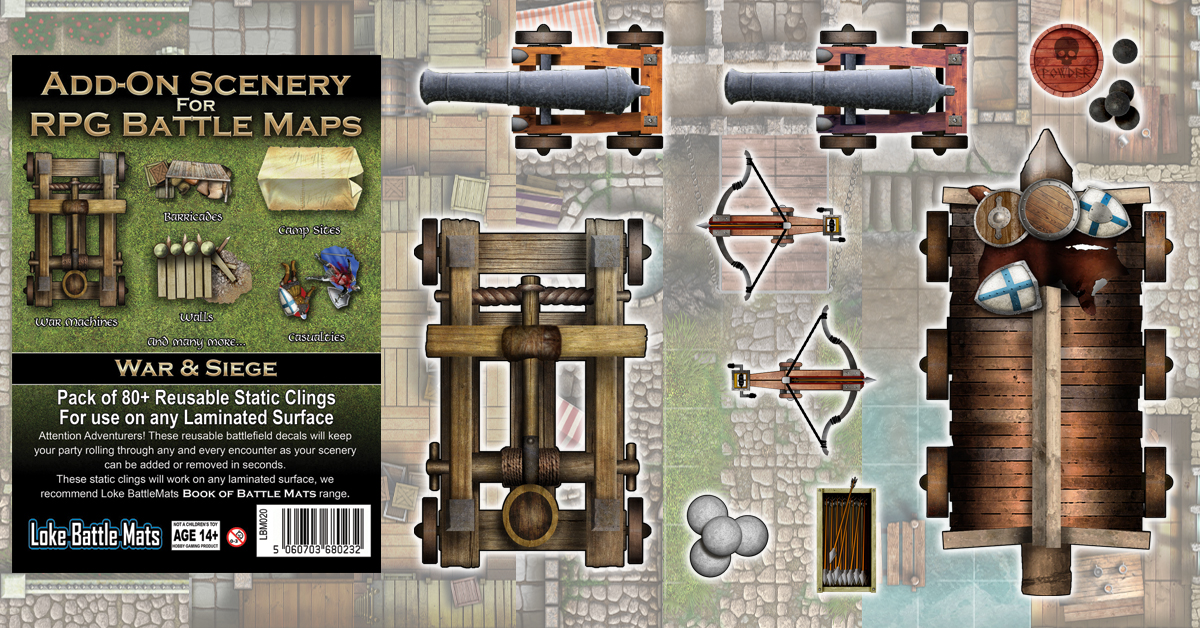 For more information and to preorder you can visit www.lokebattlemats.com or four local hobby store or favourite online retailer!