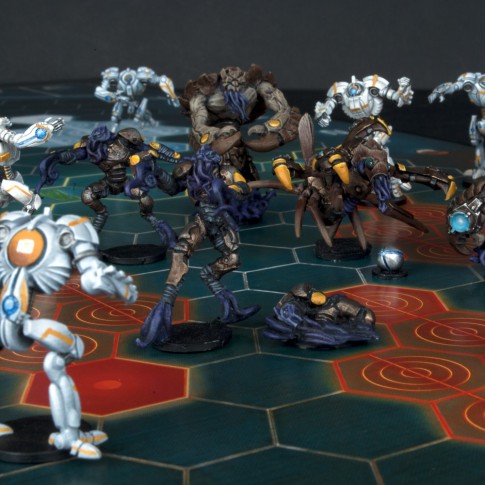 Switching Sides
Switching Sides
---
I'll admit it – I'm moving on from my Forge Father DreadBall Team. The Nameless have caught my attention! [Chris has been playing Forge Fathers since before DreadBall was a thing. This is like Ronald McDonald ordering a family bucket and some hot wings… – James]
I always really liked the John Doe concept and I wanted to try a team that could do more on the ball. Despite their very average stats, the Nameless Strikers are pretty quick and have good ball handling skills thanks to the A Safe Pair of Hands ability. Being used to only moving four hexes a turn, I'm enjoying the freedom they offer me to nip across the board! And of course, when it comes to Guards, the Sticky and Hard combo of Gotcha! and Strength 3 is pretty devastating.
I've been playing around with the idea of the Nameless for a while, so I've played a couple of games using proxy models, but I think I might crack and pick up a proper team. Why is this relevant? Well, last Friday the DreadBall Season 3 Boosters went up for pre-order, and that means I can get a whole bundle of models for my gribbly fish team in one go!
The Asterians have now also got a team booster. Yes, the original pesky space-elves are back with more poses and a prone figure that has a bit of a headache. Which is apt really, because these tricksters have been causing all kinds of problems to opposing players…
 So, do you like calamari or do you prefer your players with less tentacles and pointy-earness? Let us know in the comments.
The DreadBall Season 3 Boosters, MVP All-star packs and Galactic Tour Series: Azure Forest and are now available to pre-order and begin shipping on the 27th January 2014.