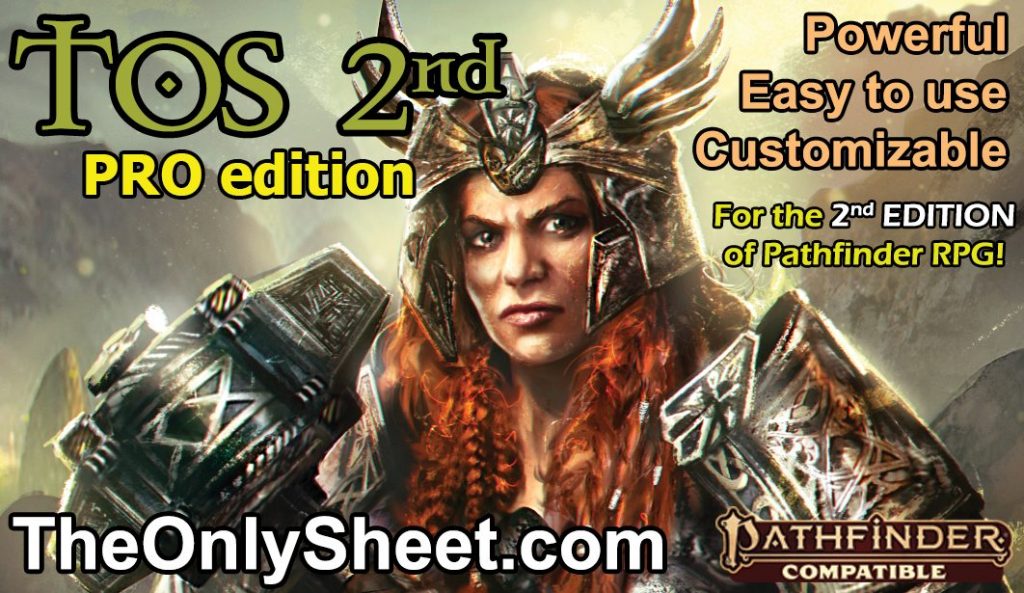 [PF2e TOOL] TOS 2nd PRO edition v10 released!
[PF2e TOOL] TOS 2nd PRO edition v10 released!
---
The Pathfinder 2e dynamic character manager TOS 2nd PRO edition has been updated to version 10! The manager now features content from the new Secrets of Magic book published by Paizo. Choose the new Magus or Summoner classes, as well as the many new Archetypes added. Summoners will be happy with the new Eidolon sheet, since it will allow them to easily manage their Summoned Creature!
Featured Content:
As of October 2021, the TOS 2nd PRO edition character manager features content from these TEN Paizo sourcebooks:
CORE Rulebook
Advanced Player's Guide
Lost Omens: Ancestry Guide
Lost Omens: Character Guide
Lost Omens: Gods & Magic
Lost Omens: Legends
Lost Omens: Pathfinder Society Guide
Lost Omens: The Mwangi Expanse
Lost Omens: World Guide
Secrets of Magic
Video review
A Beginner's Guide video (based on v5 series, announced here) created  by Youtuber Nonat1s. It demonstrate how TOS 2nd PRO edition is easy to use, and how it can facilitate the creation and maintenance of your Characters. Thanks to this video demonstration, you will learn how you can use the Sheet dynamically during a live gaming session via the Dashboard sheet. Pathfinder Society is also supported; This video (based on v7 series) examines the Society support in TOS 2nd PRO edition.
Want to try it out?
TOS 2nd CORE edition is now FREE. If you meet the requirements (local version of Microsoft Excel 2007+ on a PC), use the CORE edition to create any valid CORE Rulebook characters. These will be valid Pathfinder 2e Core Rulebook characters. Feel free to create as many CORE characters – or NPCs – as you need. TOS 2nd CORE edition can be downloaded here.
Want to ask questions?
Visit our discord channel if you have any queries regarding the Pathfinder 2e dynamic Character Manager or any of The Only Sheet products.
The invitation link is: https://discord.gg/Kvx4YkD
For full details of this and future updates, check out the Release Notes.
Happy Gaming!
The Only Sheet