WATCORP DESIGNS is back again with another great kickstarter project
or follow on Kickstarter here

Show your battle field dominance
​
Don't just stand next to Objectives – Show your armies battlefield dominance by planting your flag, raising an evil icon, harvesting energy or …growing a tentacle spore pod thingy….
​
This Kickstarter is for a new style of objective marker. Each set of 40mm diameter objectives numbered 1 to 6 have a receiver that allows insertion of flags or marker tokens to clearly show who is in control of what objectives
See the battle unfold at a glance!
Cast down your enemies flags when you storm their lines!
Display your prowess by raising your flags all over the battlefield!
On launch this project will feature 6 objectives numbered 1 to 6. Each Objective is a 40mm diameter circle with a location hole in the centre.
Army specific and customizable flags – both banners and other markers can be be inserted into the center location to allow quick and easy visualization of who is in control of what objectives at what stage of the game
This Kickstarter aims to cater for all customers by giving 2 delivery options:
1- Receive the files digitally  – cut out the cost and waiting for shipping
2- Purchase the pre-printed physical parts and get them sent direct to your door – No printer no problem!
All STL Files are rigorously test printed and stress tested before sale and each will be available in 2 forms, pre-orientated and supported and as stand alone files
All pre-made parts are 3d printed on high resolution resin printers, cleaned and QC checked before packing.
Parts have also been designed to keep shipping costs to a mimimum to provide the best value to all backers.
Project will launch with 13 different flag styles
5 different banners
Alien energy marker
Monster Spore Growth
Alien Drone Signaller
Space Elf relic
Naughty Space Elf Relic
Blasphemous Icon
Cyber Tech Controller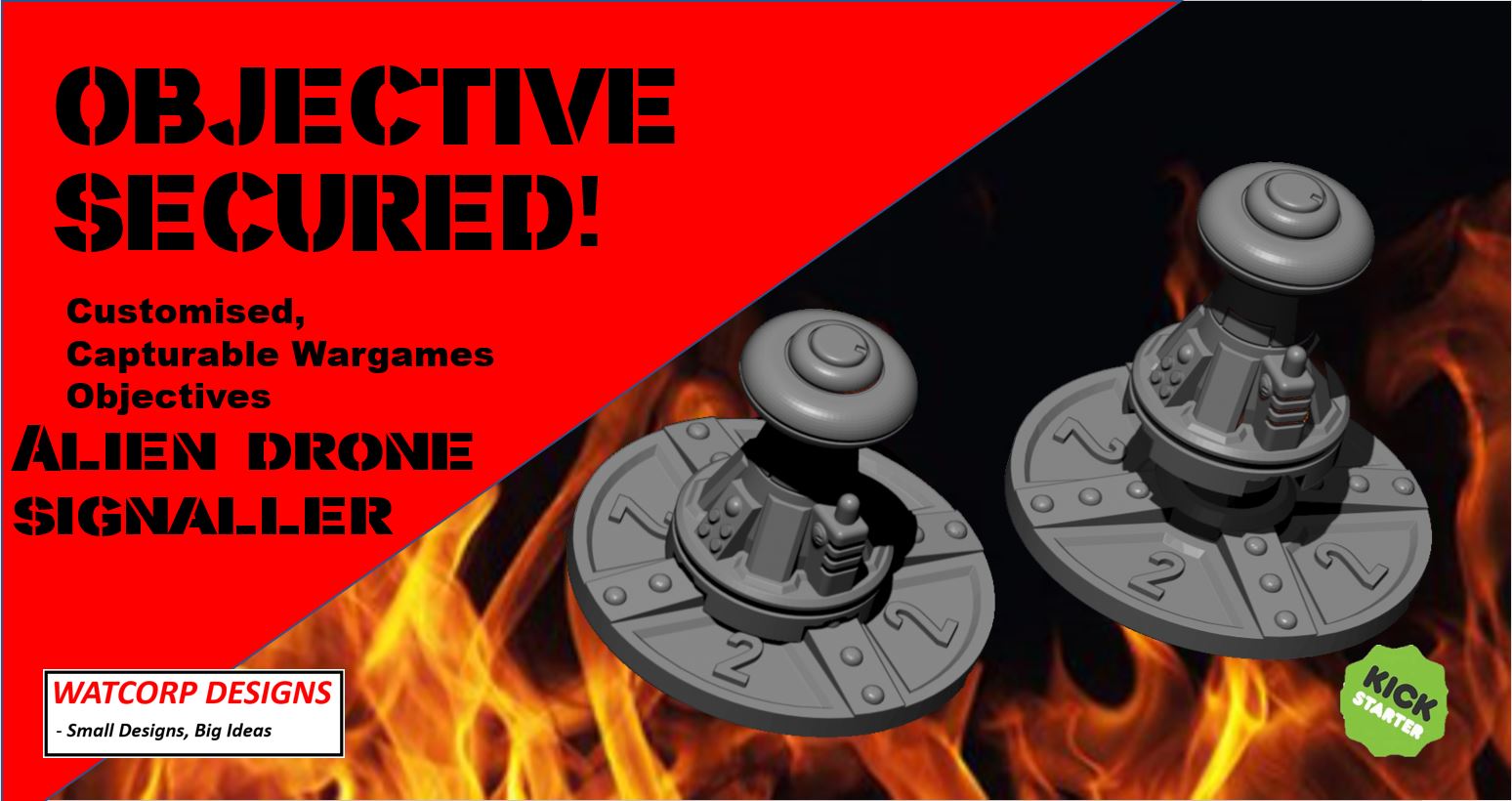 Also Included is a Pledge Level for custom flag designs.
These will be based on 1 of the 5 standard banner shapes,
Just send a Clear, Black and white JPEG of the designs you want (up to 3 design elements)
The Chosen design will be added to the banner for your own unique force
Additional Stretch Goals will be Unlocked if/when more backers pledge. The unlocked will designs will increase the options available for physical order
Unlocked designs will also be added to the digital print at home options for download and print at home for no additional cost.
 5 Additional Banner shapes and styles  – higher detail and more dynamic banners
Additional banner pole styles
 Rocky outcrop and city ruins themed 40mm objectives
The banner reciever will be identical on these objectives so will be 100% compatible with all flag/banner options
 For specific game modes that require different objective setups these "Energy Pillar" objectives make great objectives or just terrain pieces