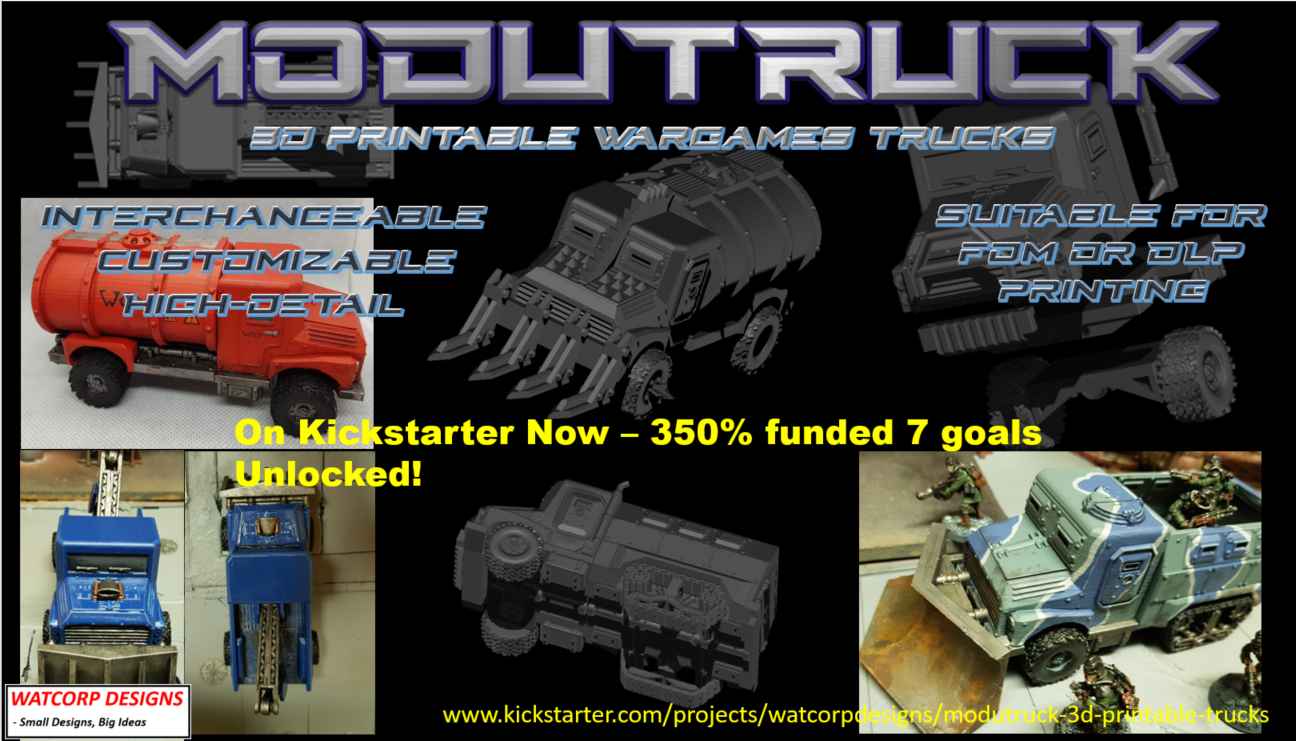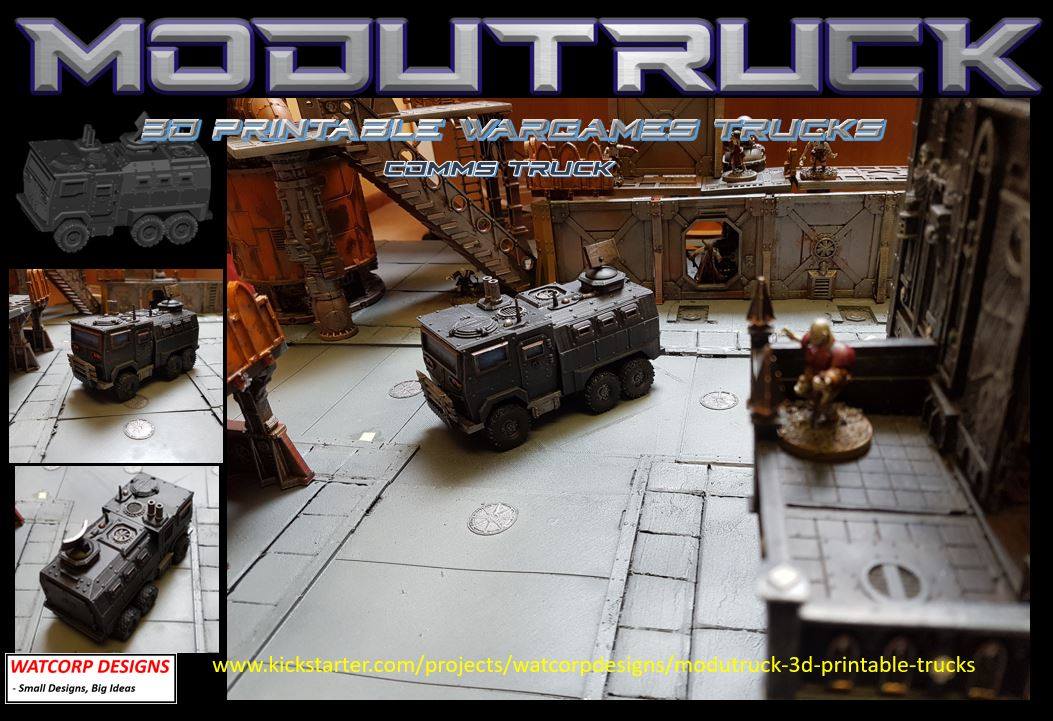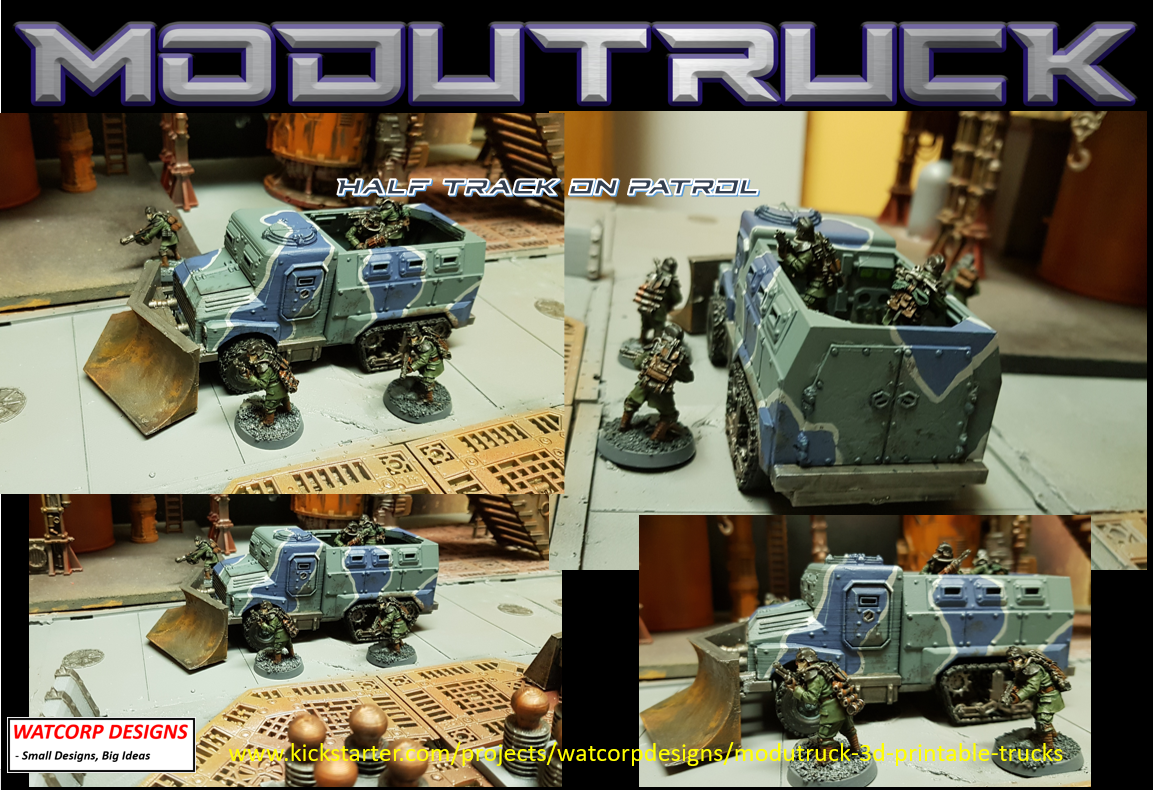 Welcome to Modutruck. The latest Kickstarter by Watcorpdesigns
Join the Facebook group to show off your prints and discuss more about the project
To see more of our designs checkout us out on Ebay and ETSY!
This concept for this Kickstarter was to develop a range of alternative Sci-fi/ near future civilian vehicles with interchangeable cabs, wheels and backs.
Fully tested and trialled on a range of low-cost FDM printers including both Cartesian and delta styles
All files have been designed and tested to print on FDM printers without requiring supports – this means 1 less step between printing and getting a great looking model.
All files are small enough to be printed on common low cost Resin printers for those wanting maximum resolution. Even the largest fit on a standard build plate without further sub slicing.
 All solid parts like Cabs will be supplied in resin friendly hollow versions
All files are broken down into various sections allowing inter-changeability between Cabs, Rears, Bases and Axels, as well as the additional upgrades (and stretch files)
If you want a civilian pick-up – done, Armoured Towtruck – simple, Milk tanker with ram bars – why not!
See bottom of page for painted examples!
Standard Cab
Armoured Cab
Armoured Cab with Hatch
Armoured Cab with Duel Machine Gun
Omni cab variant 1 – rear engine
Omni Cab Variant 2 – front engine
Armoured Omni Cab 1
Armoured Omni Cab 2
Pick-up
Hardback with opening doors
Solid Hardback
Tanker
Armoured Half Track
Ram Bars
Bull Bars
Skull Bull Bars
Plow
Large Plow
Large exhaust chimney
Super Charger Bonnet
Standard Pledge level and Early Bird include all the files in the initial wave plus any and all stretch goals that are unlocked
Get all the files in this kick starter plus all the files from the previous MODURAIL Kickstarter – a big discount on both sets of files!
click here to pledge now or read on for more stretch goals and painted examples!
Prepare for the End of Days by Pimping your truck with spiked plows, armour spikes and wheel blades,
Fix up your looted truck with extra armour plates and idols,
Upgrade your pick-up back with a hastily mounted machine gun or rocket launcher for when things get rough,
Turn your half track into an armoured command vehicle with a solid top and coms unit or an armoured support unit with a turret.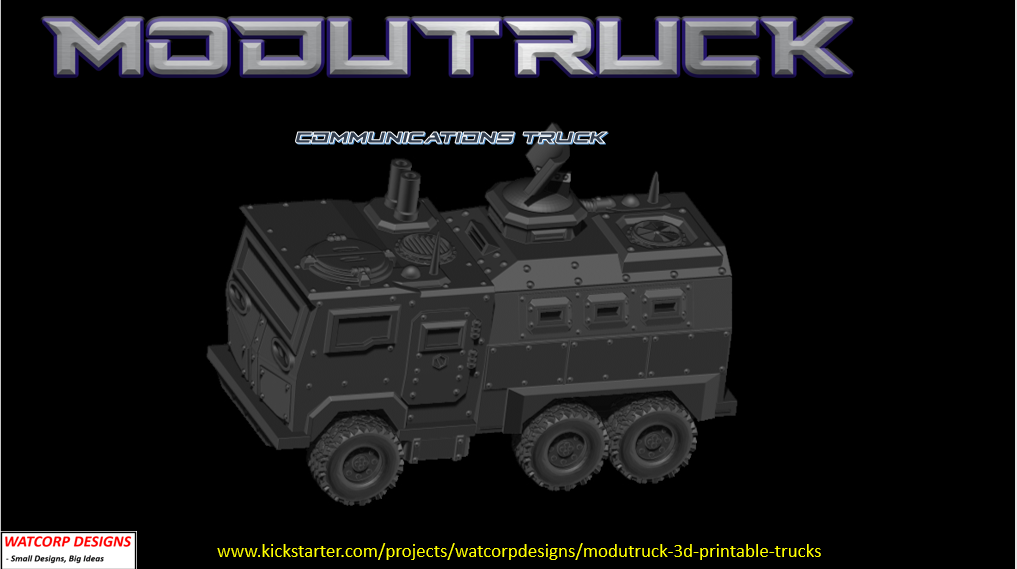 Turn your half-track into 6 wheeled armoured car with a wheel upgrade.
Make use of the removable bonnets to show interior engine detail. More exhaust and bonnet options included.
Classic Katyusha style multi rocket launcher rear
Trucks not big enough? make way for its big Brother  – the Articulated Lorry
New model featuring a separate Cab and Trailer.
Anti aircraft gun upgrade for the Half-Track and a trailer with AA gun for other models (also features a tow hitch upgrade for all models)
Anti tank upgrade for open top half-track. Solid shell cannon and laser options.
The Big Daddy of the Trucks – Articulated Lorry with Armoured Cab and an Armoured Trailer bristling with ordnance.
ABOUT US