Last chance to Late Pledge for Loke Battle Mats' Wilderness Books of Battle Mats!
Last chance to Late Pledge for Loke Battle Mats' Wilderness Books of Battle Mats!
---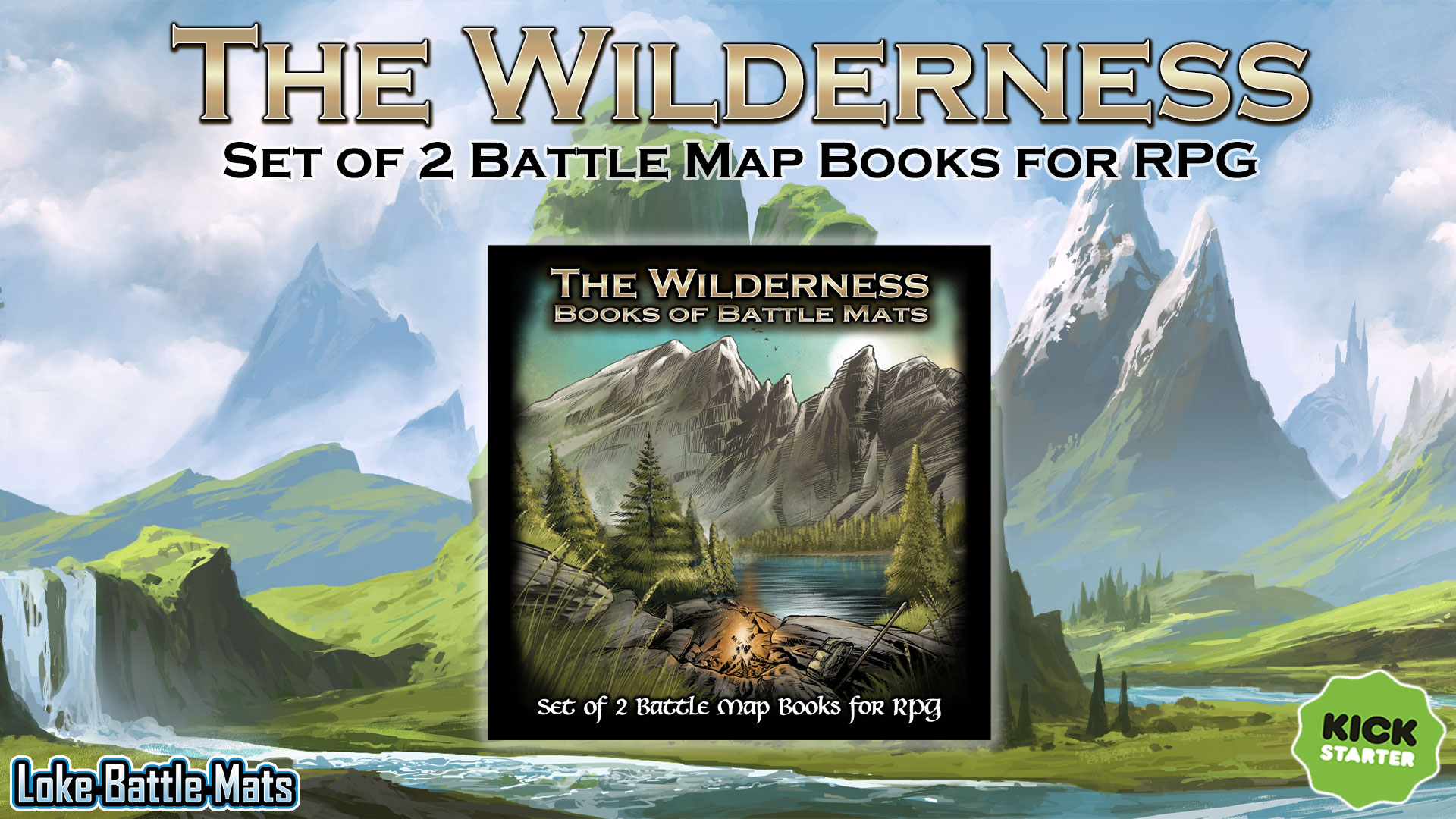 Loke Battle Mats' The Wilderness Books of Battle Mats Fully funded on Kickstarter in early 2021. This is the last chance to Late Pledge to take advantage of the Kickstarter exclusives and pledge level packages!
Make your Storytelling easy!
The Wilderness Books of Battle Mats are a must have for DMs. A pair of modular map books that let your adventure flow uninterrupted. Because we see reuse is key our maps can be used for many different encounters and games. Now there is no need for you to to hastily draw maps mid game. You have a map for any outdoor encounter at your fingertips.
From frozen tundra to arid deserts, through caves, across moorland to stormy coasts & seas, you have all the essential fantasy biomes! Our two books feature modular complimentary maps to allow you to align them to create huge maps with many different combinations. Wipe clean and featuring a 1" grid throughout, these maps are durable, details and customisable! Because your adventure needs a beautiful map to keep track of the action.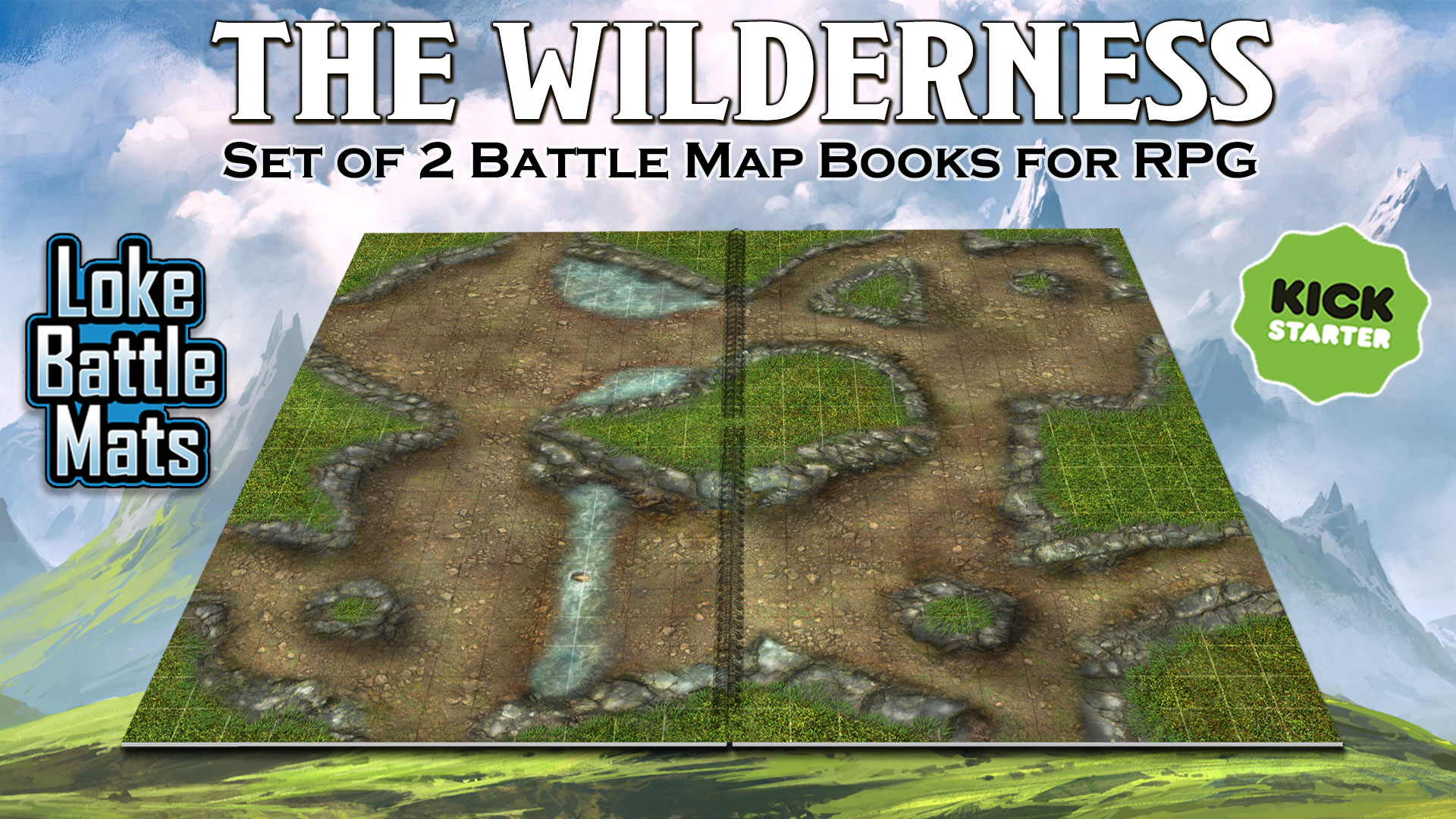 Handy Book Format fit in your bag and on your shelf
You can use any single map page by itself for smaller table space & encounters. For larger spaces and encounters you can make a map up to 24″x24″! The books have 80 map pages, creating maps which flow perfectly and fit together in multiple ways. All in a book that fits in your bag or on your shelf! You can fit these books in your bag and on your bookshelf so you'll always have the right map to hand.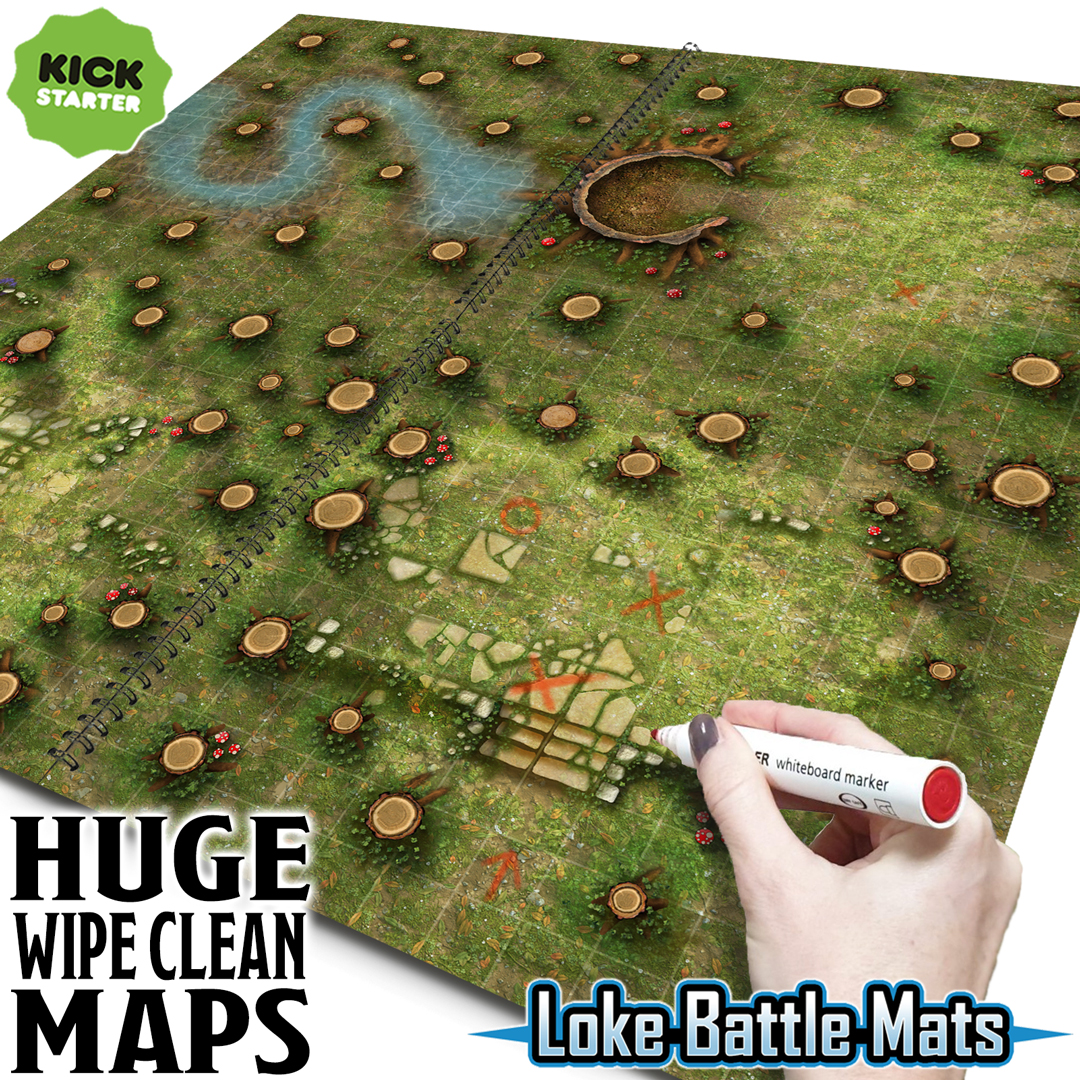 There's more to this Kickstarter!
Because every adventure is different we know you need to customise your maps. So we are also creating a set of Wilderness scenery stickers, durable and reusable static clings which will add wild features to be added to any laminated map in seconds. Adding trees, rocks and peril at a moments notice. And a Little Book of Battle Mats – Wilderness Edition will also be created for this Kickstarter. A perfect book for random wild encounters and for adding perilous areas to existing maps!
Last chance to late pledge!
As we are celebrating the third in our fantasy modular map book trilogy we have created some new ranges for this Kickstarter to celebrate. We will make these available in certain pledge levels and as optional purchases in the pledge manager. So look out for our exciting new products!
Loke's Immersive double sided GM Screen
Hardbacked book "Loke's Untold Encounters of the Random Kind"
Loke's Deck of Encounter Twists
Kickstarter Exclusive Huge Wooden Wilderness D20.
The Wilderness will ship out to backers later in 2021.