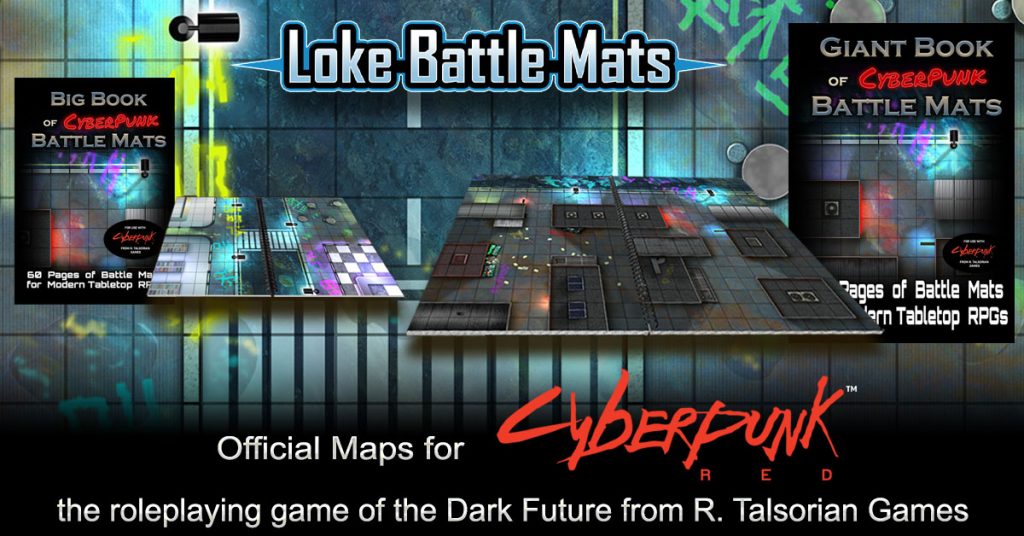 Loke Battle Mats announce partnership with R. Talsorian Games
Loke Battle Mats announce partnership with R. Talsorian Games
---
Loke Battle Mats proudly announce our very own Books of CyberPunk Battle Mats are now Official Maps for Cyberpunk RED, the roleplaying game of the Dark Future from R. Talsorian Games.
Loke Battle Mats' Books of CyberPunk Battle Mats cover a wide range of essential encounter areas, so you will have the map for any dark future adventure at your fingertips. From neon lit streets to imposing corporate lobbies, derelict container dumps and shanty towns to futuristic street cafés, the map you need is here.
Cyberpunk RED is the latest edition of the classic roleplaying game of the Dark Future featuring updated mechanics and new lore set in 2045, midway between the events of Cyberpunk 2020 and Cyberpunk 2077.
Established in 2016, Loke BattleMats are UK-based designers and publishers of the Book of Battle Mats range for tabletop roleplaying games. Their lay flat map books combine the usefulness of flat battle maps to illustrate and track RPG encounters with the portability of a book, giving you dozens of map pages at your fingertips.
Founded in 1985, R. Talsorian Games is an award-winning producer of tabletop roleplaying games, including bestsellers Cyberpunk RED and The Witcher Tabletop Roleplaying Game as well as Castle Falkenstein, the Mekton series, and Teenagers from Outer Space. Mike Pondsmith, the company's founder, was inducted into the Origins Awards Hall of Fame in 2006.
"We used the Big Book of Cyberpunk Battle Mats when we were designing Cyberpunk RED, so when it came time to partner up with someone for official maps, there was no question who we'd turn to. Loke Battle Mats are a perfect way to visualize any game set in the Dark Future." Mike Pondsmith, creator of Cyberpunk RED
"I have been a great admirer of R. Talsorian Games for many years, and I have trodden the streets of Night City many, many times. I am delighted to have the opportunity to work with an organisation whose games have shaped my own experience as a GM and player over the years." Matt Henderson, Founder & Co-Owner Loke Battle Mats
Loke Battle Mats' Books of Battle Mats are available from your friendly local hobby store, favourite online retailer or www.lokebattlemats.store.
Would you like to stock Loke Battle Mats products? Loke Battle Mats are represented to the hobby sector by PSI so you can stock our books via your usual hobby distributor.