On behalf of the Privateer Press staff, I'd like to thank everyone who made it out to Lock & Load GameFest 2019 and helped make it the great time that it was. It was our second year in the Hilton Bellevue, and Lock & Load has really grown into this venue well. Iron Arena was huge and always busy, as well as adding Monsterpocalypse tables and Riot Quest demos to the many activities this year. The hobby lounge was always hopping, and the competition was fierce in the tournament hall. We're already talking about all the things we'll be doing for next year's Lock & Load when we'll be celebrating the 20th anniversary of Privateer Press! So, whether you were in attendance or were tuned in from home via our live streams and online updates, here are some of the many highlights from this year's Lock & Load: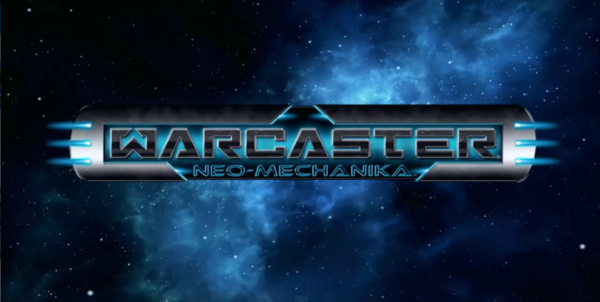 2019 Keynote – We had a shipload of stuff to cover in this year's keynote, including upcoming Monsterpocalypse releases, a Riot Quest exposé, the announcement of the brand-new SAVAGE MiniCrate, and, of course, the starring feature of this year's presentation, the Infernals and a preview of the upcoming Oblivion campaign set. The collective applause at the mention of the new upcoming theme force system will stick with me forever, as will the silence of deep space that followed our very unexpected announcement of Warcaster, but we'll be showing more off for that in the coming months. I'm sure by Lock & Load 2020, there will be plenty of clamoring for this next game…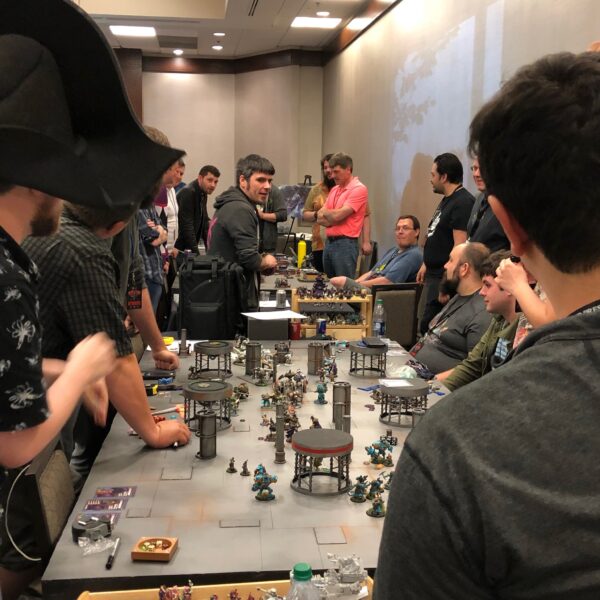 Stormbreak Narrative Event – For those keeping up on the ongoing saga of the Iron Kingdoms, this year's Lock & Load featured the final event that will shape the Stormbreak story, the last book in the Acts of War series covering the struggle to liberate Llael. Two sessions with 16 players each played out over the top and middle decks of Khador's massive Stormbreaker skyship on its way to bomb Corvis to smithereens. The stakes were high with prominent characters onboard the ship, including Stryker, Magnus, Nemo, Irusk, and Strakhov. In both games, the Khadoran supporters won the day, which means the Cygnar side is going to take it on the chin in the final installment of the Stormbreak series, being penned by Aeryn Rudel. Watch for our update in a few weeks when the story goes online and you find out who walked away from that battle and who made it their last stand.
Hangouts – The hangouts were great, as always, and we did our best to spoil every secret we have been sitting on for those who were in attendance. In the Art Focus hangout with Doug Hamilton and Mike Vaillancourt, we held a live concepting session for the upcoming Ashlynn 2, which was the title winner of the March Warmadness event a couple of months ago. Everyone attending the hangout got into the discussion, and we came away with a list of fantastic ideas that dug deep into Ashlynn's character and are sure to make her a flavorful model that any Merc fan is going to love.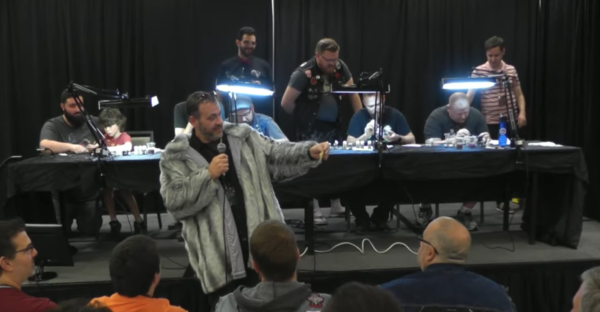 Iron Painter – For the first time ever, Iron Painter was hosted by none other than staff sculptor Doug Hamilton, who put an Infernal spin on things this year by marking souls in the audience who then assisted the contestants. Participating this year were Steve Hall, Todd McNeal, Tyson Koch and representing Privateer's studio, the super talented Jordan Lamb. The madness that ensued led to solid entertainment, if not a definitive winner…Sometimes you just gotta let chaos be chaotic.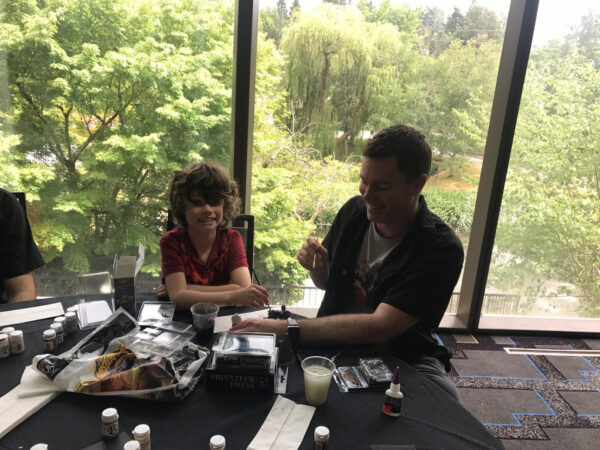 P3 Hobby Lounge and the Grandmaster Painting Competition – The P3 Hobby Lounge was buzzing with activity as always, with hobby tutorials, sculpting demonstrations, and people putting together their Infernal armies. And the entries for this year's Grand Master Painting Competition were some of the most impressive ever!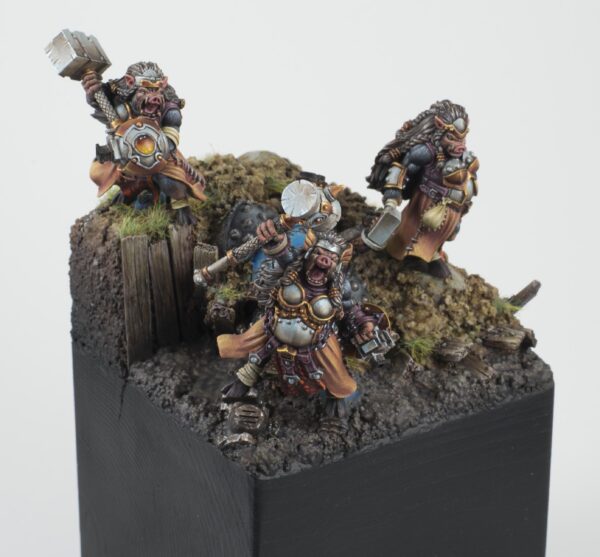 Todd McNeal
2019 Grandmaster
Best Group
Farrow Valkyries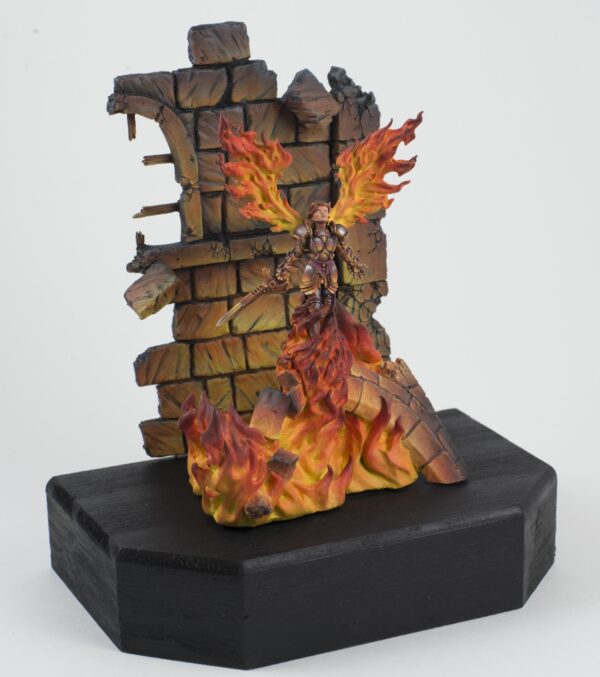 Todd McNeal
Best Massive Model (diorama)
Ashes to Ashlynn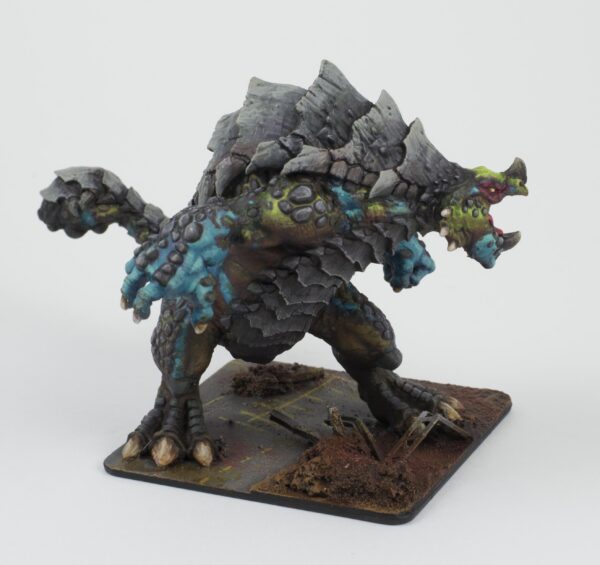 Steve Hall
Best Monsterpocalypse
Armodax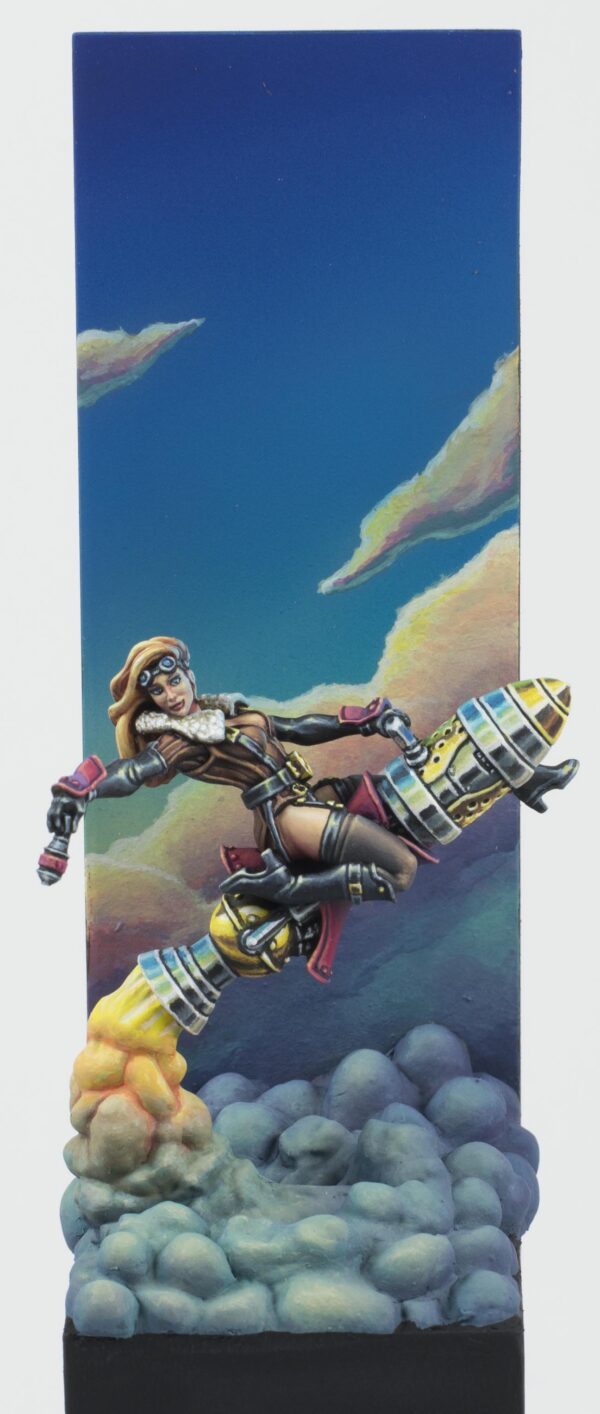 Erik Swinson
Best Single Model
Rocketgirl Rider
Monsterpocalypse Team Map Battle – Development Manager and Monsterpocalypse lead Oz Schoonover ran a 16-player map battle for Monsterpocalypse players. The event was TONS of fun and will become a mainstay of future events. There's even talk of creating a home-game version…
The Tournaments – Competitors in both WARMACHINE & HORDES events as well as for the first time, Monsterpocalypse events, brought their best to the table. Here's a list of how the big events shook out: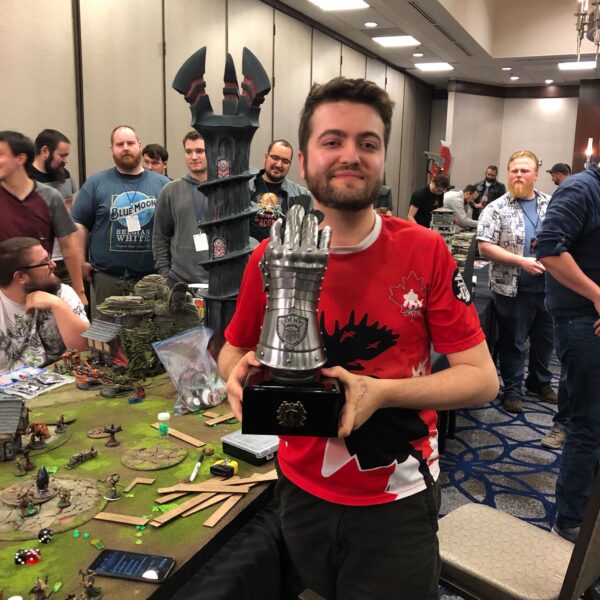 Marc-Andre Leblanc won the Iron Gauntlet World Championship with his Circle Orboros army
Gregory Schadt won Champions LCQ with his Skorne army
Ben Beckmann won Masters LCQ with his Retribution of Scyrah army
Mike Ireland won the Monsterpocalypse 1-monster tournament on Friday.
Jeff Mitchell won the MonPoc 2 monster tournament on Saturday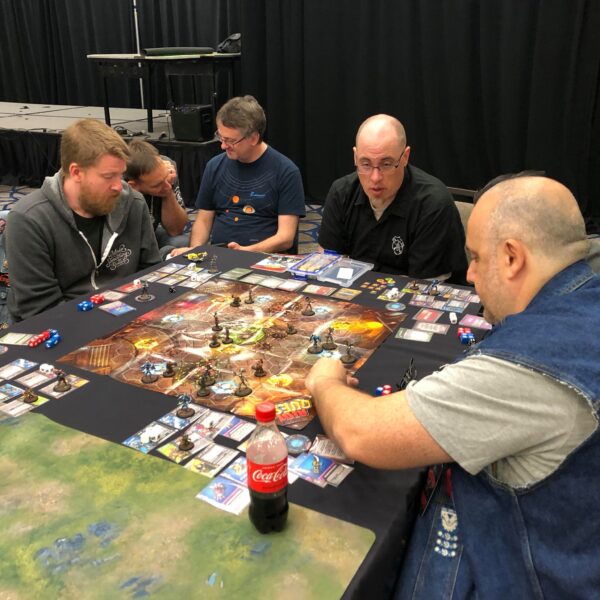 Riot Quest Demos – When he wasn't crashing skyships or commentating on our live streams, Lead Developer Will Hungerford, along with Oz, ran Riot Quest demos in the Iron Arena. You could always tell when a demo was going on because of the wall of people that would surround the table, watching as four players duked it out for loot over the Thunderhead Fortress map. The game proved to be a blast, making us all even more excited for its release at Gen Con in just over a month…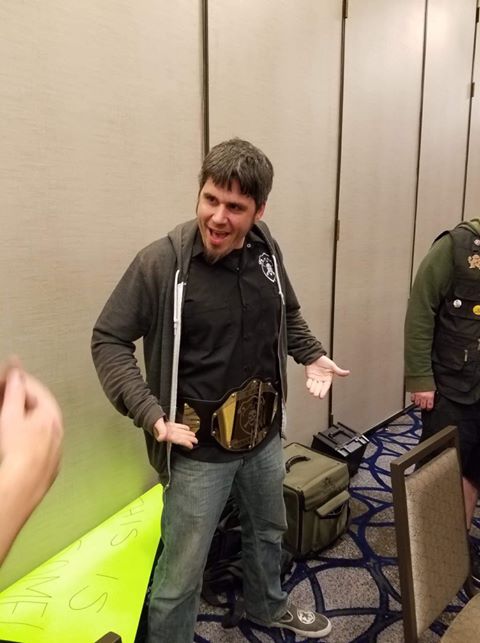 ECW and Engines of Destruction – The "Hardcore Casual" group put together a big Extreme Colossal Wrestling event, which included converting tons of huge-based models to be look all '80s pro wrestlers. They even made a fantastic custom belt for the winner, and I saw at least one colossal wearing a denim vest. This same group also built an Engines of Destruction track, and players tore it up with their battle engines as they raced well into the night.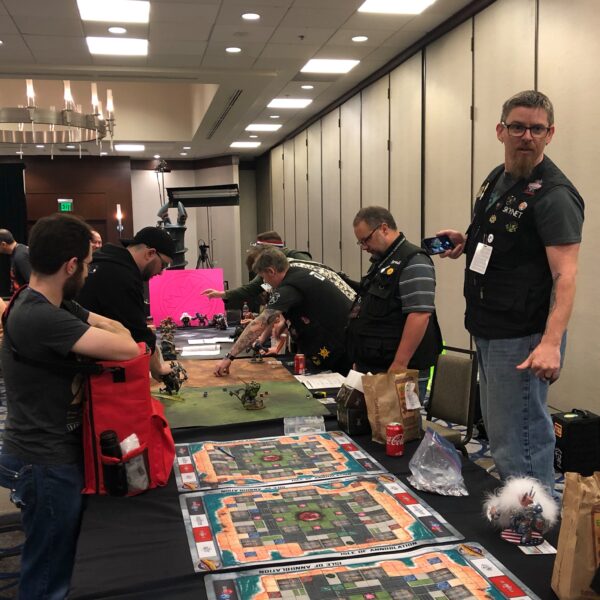 Infernals – It's always fun to release a new Faction at Lock & Load. We spend 12–18 months developing these new models in secret before they become something someone can hold and paint. So, it's inspiring when we see people assembling a new army right there are Lock & Load and getting it onto the table that weekend. And we're already seeing a wide range of fantastic color schemes and customization going on with the Infernals! They're going to take the Iron Kingdoms by storm.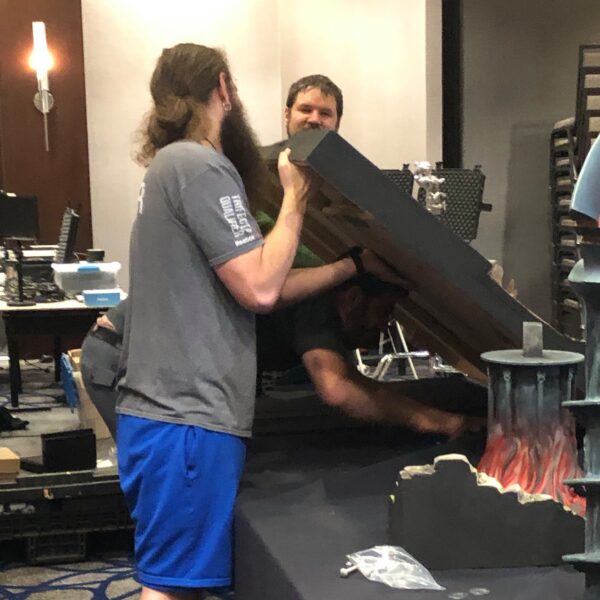 Lock & Load is a huge effort that tasks the entire team at Privateer Press, but ask any one of them, and they wouldn't miss it for anything. As mentioned, next year will be the 20th anniversary of Privateer Press, and we've got some big things in store, not the least of which will be the release of an all new sci-fi miniatures game, Warcaster. Watch for our news later this year when we start posting information about next year's events, and all the fun we're going to have at Lock & Load 2020!