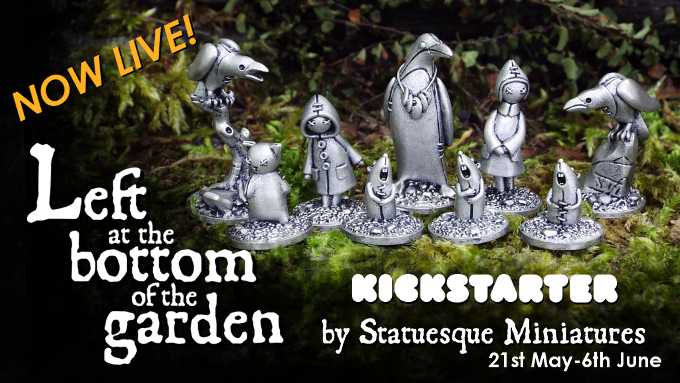 I'm very pleased to announce Statuesque Miniatures' first ever Kickstarter – Left at the Bottom of the Garden – is now live. The miniatures in question – a motley collection of lost toys – are something quite different in style and purpose from my usual work and that's why I've gone to Kickstarter to help reach as many people as possible. With your help, I can get production rolling and the toys can venture out into the world.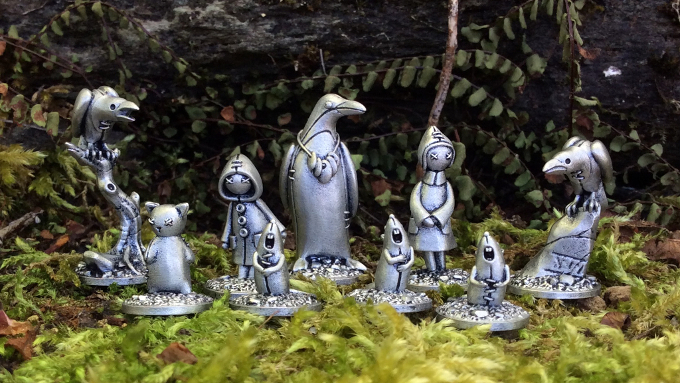 Measuring approximately 14mm to 32mm tall, the Left at the Bottom of the Garden miniatures represent a group of lost toys who have left the garden to venture into the dark woods. I sculpted the miniatures with tabletop gaming, painting and collecting in mind. In particular, I wanted them to be nice little objects in themselves, needing no glue, no assembly beyond normal casting clean-up and no plastic bases. They have bold, chunky details meaning they can be easily painted or finished however you wish.
All photos show production castings of the miniatures (albeit prepped and given a coat of boot polish to bring out the details), so if the Kickstarter is successful I'll be ready to start casting your miniatures immediately. There won't be any stretch goals or additional items added during the course of the campaign – I don't want anything to delay fulfilment.
If these odd little miniatures are up your street, please do consider backing the campaign – it would be really appreciated.
The Kickstarter will run until 11pm BST on Thursday the 6th of June.