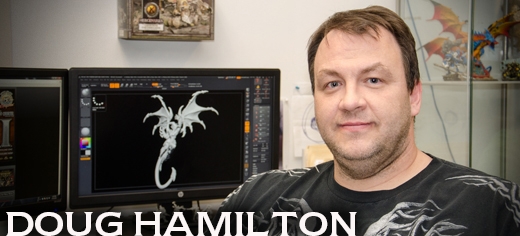 Insider 1-17-2013
Insider 1-17-2013
---
As I approach my one-year anniversary at Privateer Press, I thought an Insider was past due. The big question was, what could I possibly write that would interest our community? The answer was actually quite simple: with the imminent release of Vengeance and a new caster for one of my favorite factions, Retribution of Scyrah, I though it would be great to share a peek into the digital sculpting process of Issyria, Sibyl of Dawn.
As you can imagine, this last year has been an adventure, being able to work on a wide variety of sculpts here at Privateer Press, but one of the coolest aspects has been, because I play WARMACHINE and HORDES, I now get to use sculpts I worked on to crush my opponents. So, when I saw Retribution of Scyrah was getting a new warcaster I quickly begged, pleaded with, and bribed Ron Kruzie to assign the project to me. Then, once I saw the fantastic concept art from Nick Kay and took a peek at Issyria's abilities, I doubled my bribe. She had to be mine!
Here are some of Nick's thoughts on the concept:
---
Issyria was my second concept for Privateer Press and definitely a challenge. Retribution has a very iconic style unlike any other faction, so I put considerable effort into carrying over the visual aesthetics from other characters and units within the faction.
Per her character's description, Issyria is a paragon of tactical brilliance: cool, calculating, and confident. Issyria's design needed to reflect her serene and commanding presence rather than any reliance on physical violence. Keeping this in mind, I designed her to appear cerebral, stylized, and delicate—a somewhat otherworldly presence in the field.
The primary purpose of concept art is to provide reference for the sculptor. The finished concept must deliver the necessary information the sculptor requires to perform his job, often by creating renderings of a character from multiple angles and clarifying minute details. In most cases, I provide a "neutral" or un-posed rendering of the character as well as a simplified posed rendering—otherwise, important details can become obscured or confused by overlapping limbs, weapons, or garments.
---
In Issyria, Sibyl of Dawn's concept, she is in a very relaxed, floating pose, allowing me to see how her armor is layered and hiding none of the character's details. The downside of working with Nick is that even this pose looks amazing and would make a great model!
When I start on a project, I like to block in my shapes to get a feel for what I need to work on and to identify any potential problem areas. Pinpointing concerns early in the process will allow for quick and easy changes, as opposed to waiting to make changes after the model is posed.
In this preliminary screenshot you can see how I duplicated the size of the model and her armor to closely resemble the concept.
Once I reach a satisfactory point in the sculpting process, I pose out the model and add any additional fine details. Often I like to add these small details toward the completion of the process so they remain prominent. Even with the end in sight of a sculpt, we still often make last-minute changes to perfect details. In the case of Issyria, Sibyl of Dawn, I reworked her flowing cloth several times to get it "just right."
The end result is a sculpt I am very satisfied with and eagerly look forward to fielding as soon as possible. Hopefully the Retribution community is as excited as I am about our newest caster!