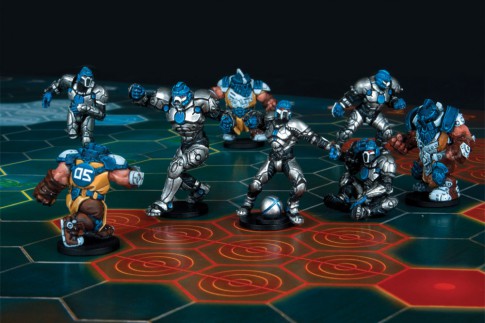 Give your team a boost!
Give your team a boost!
---
Ask a number of DreadBall players what their favourite part of the game is, and you'll get a whole range of different answers. Some people like the thrill of outwitting their opponent, some people love the wide range of different play styles available, others just enjoy the fact that you can play a few games in a single evening! Personally, it's all about my team.
The Wranglers aren't going to win any painting competitions any time soon (yellow; what was I thinking?) but I've been playing with them for several months now, and I've grown really attached to them! There's something incredibly evocative about the journey you take with your team when you get involved in a DreadBall league; players develop new abilities and take on particular roles, your opponents start to fear particular members of your team, and you enter a period of mourning every time one of your players is mortally wounded and you don't have the megacredits to revive them. I thoroughly enjoy each and every game I play with them.
But why am I going on about my team? Well, since the above photo was taken I've added a few more players to my team courtesy of the Trontek 29ers Team Booster. These booster packs contain variant poses for your team, as well as extras like Keepers and Prone figures. These are an incredible boost to a collection; for example, my two Guards now look different, and I can easily remember which one of them's got the Can't Feel A Thing ability. (That's Champ Fanshaw, who also won the Outer Core Rib-Eating Contest two cycles ago by picking a MegaHeifer rib clean in under three minutes!) The prones are also great if you want to avoid having to lay your carefully painted miniatures down when the inevitable Slamming starts.
Of course, there's also the fact that these sets contain Keepers, which are an almost essential addition to most teams during League play. Having a Guard who is a) armoured like a tank and b) able to pick up the ball if necessary is an absolute boon, especially when you're up against hard hitters like Teratons or Marauders. I'm already painting one up ready for when Champ gets the ability!
Boosters are already available for all eight of the Season 1 and Season 2 teams, and the Season 3 boosters are now available to pre-order. Check them out over at the Mantic store, and while we're on the subject of teams, why not take the chance to tell me about your favourite player from your own team in the comments below?