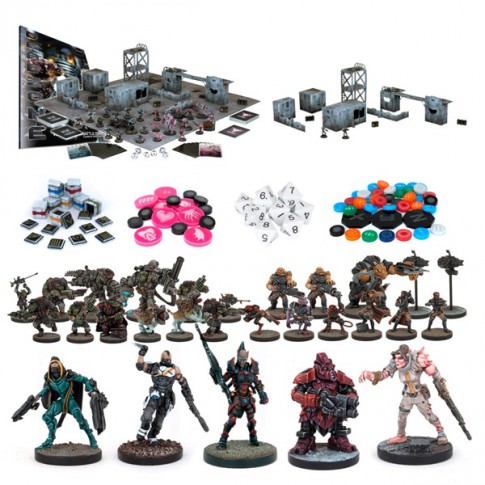 Dispatching Strike Force…
Dispatching Strike Force…
---
In case you missed the posts about it earlier in the week, today's a pretty special day – all of the Deadzone products that will be released in February are now available to pre-order! Here's a quick recap of what you can get:
There are several different ways of getting the Deadzone boxed game. The Collector's Edition, shown above, gets you an incredible amount of kit – all four factions, five mercenaries (including the Helfather, who isn't on general release yet!), extra scenery, acrylic counters, the ever-popular resin equipment crates and the rest of the contents of the game box. Alternatively, there's the Gamers' Edition, which drops the Rebs, Marauders and Mercenaries; the Mega Deal, which gives you all four factions, four Mercenaries and extra scenery; or just the Deadzone game itself!
Of course, if you want to build your own bundle, everything's also available separately – check out the Faction Starters, Accessories and Scenery sections of the Mantic Shop. (You can pick up extra Connector Sprues in the Scenery section – we've had a lot of people say that they wanted more, so we've made them available!)
Most of that was already available to pre-order, but we've added a few new things today – namely the Plague and Enforcer Faction Booster sets! We've already looked at these in detail on the blog, but we've made one minor adjustment. Following a massive demand from the fanbase, we've made the Plague Teraton available as a separate figure as well as in the Plague Monsters booster. We reckon this will make some of you very happy indeed!
All of this will start to ship from 14th February. Personally, I've got my eye on that Collector's Edition – what about you?