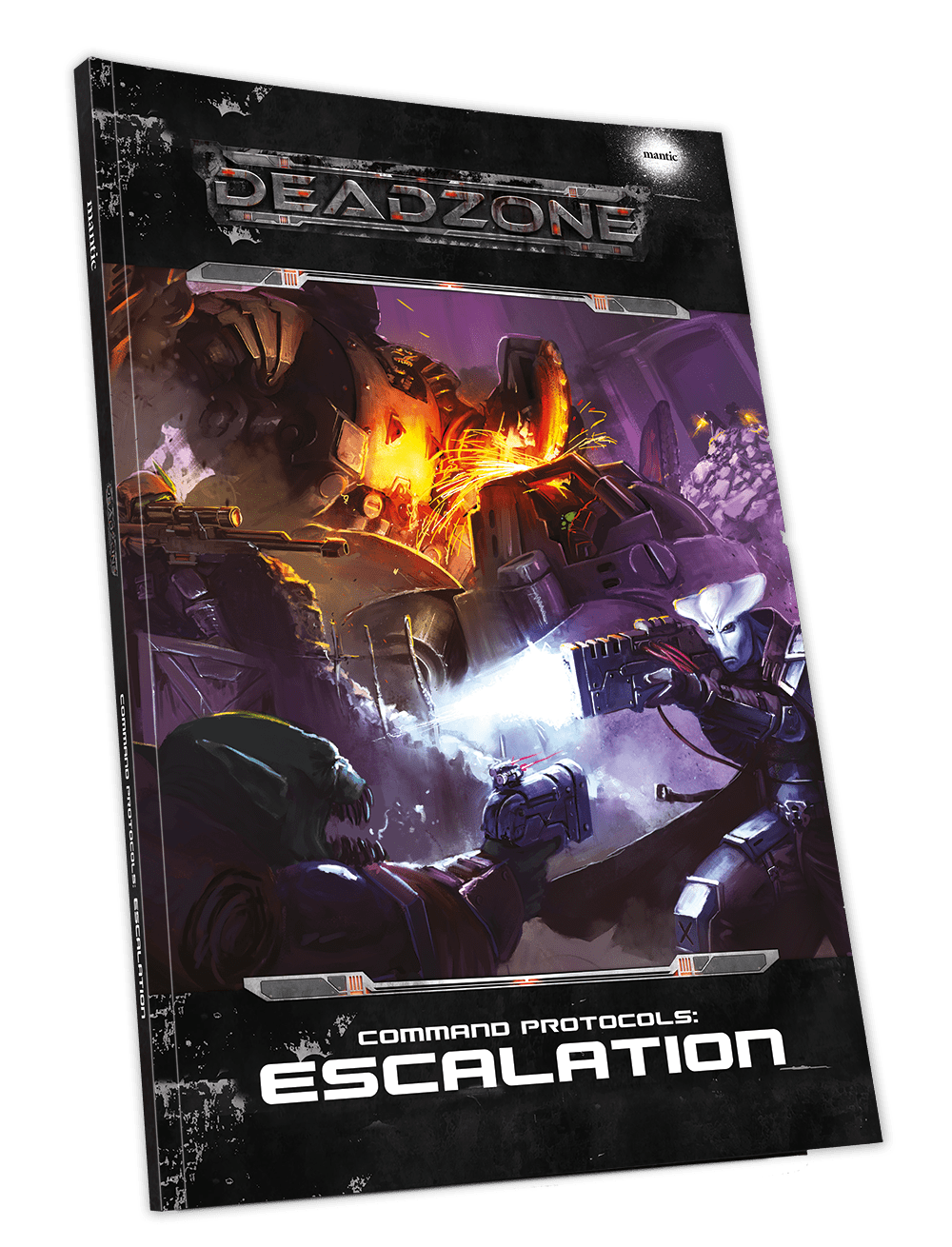 Deadzone fans, it's the release you've been waiting for! Containment Protocols: Escalation is the latest supplement for everyone's (EVERYONE'S) favourite sci-fi skirmish game and will be available for pre-order – along with a host of other exciting Deadzone releases – next week from the Mantic website. But what the heck is Escalation and why should you be excited?
Well, you damned heathen you should always be excited about a new Deadzone release, but just in case you need more persuading we've got a host of reasons below! Escalation is the hotly anticipated follow-up to last year's Outbreak supplement, which sold out after only a few months.
While Outbreak aimed to bring all the factions up to date with the latest errata and stat changes, Escalation does so much more. As well as including any new stats, Escalation also introduces new ways to play and abilities. It clocks in at a massive 120-pages and includes everything from Outbreak and lots, lots more…
MERCENARIES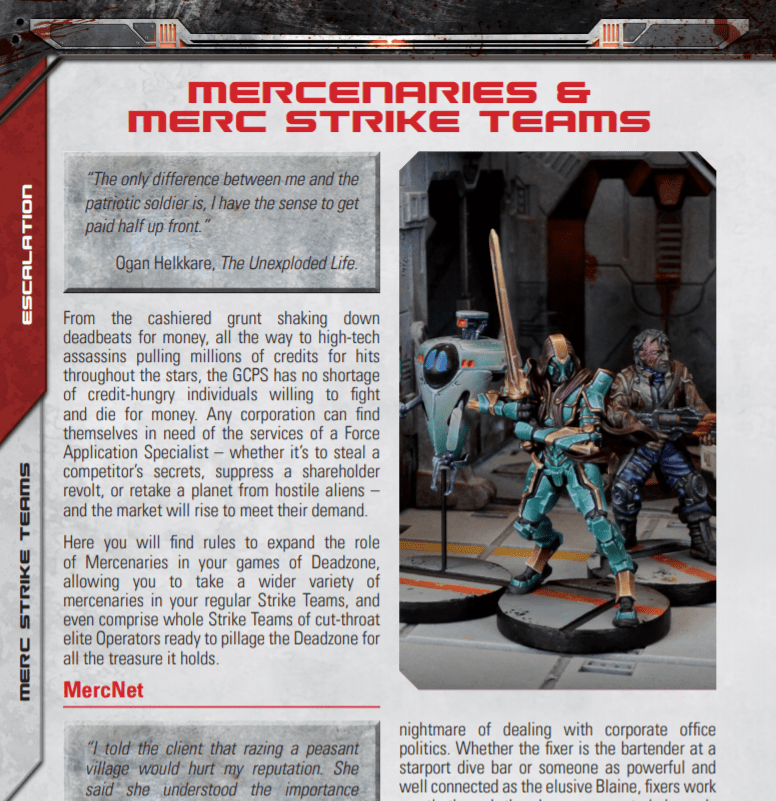 One of the biggest overhauls in Escalation is a re-working of the existing mercenaries and a whole host of new mercs, that come courtesy of Star Saga. Not only have the mercs been rebalanced to make them more competitive, the Deadzone RC has also created a special mercs faction.
This allows players to create their own elite squad of guns (or swords, or claws, or whatever) for hire. Although not designed to be used in tournament play, the Mercs faction is a great opportunity to get some awesome minis on the table and blast away at your foes!
INTERACTIVE SCENERY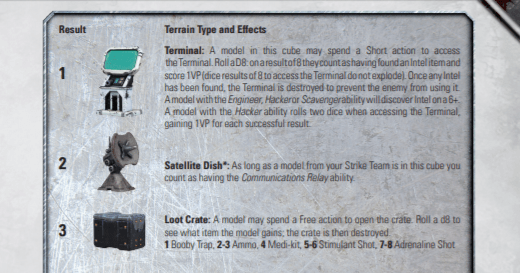 Another great addition in Escalation is the inclusion of rules for interactive scenery. Again, if you've got Star Saga you'll already have a host of great sci-fi scenery and we wanted to make sure you had a fun and interesting way of including it in your games of Deadzone. For those without Star Saga in their collection (shame on you) – you can buy the Starship Scenery pack separately too.
LARGE-SCALE MISSIONS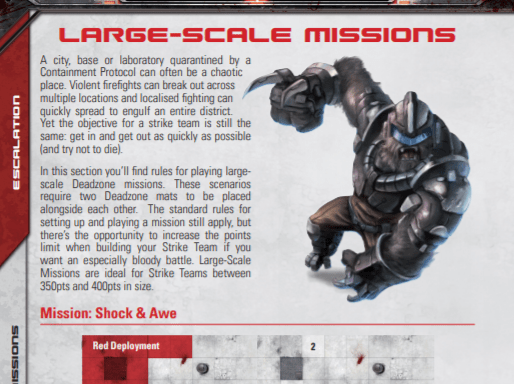 You want even more? Well, what about Large-Scale Missions? We know that a lot of Deadzone players have a huge assortment of awesome minis in their collection, but can't always use them in a standard game of Deadzone.
So say hello to the Large-Scale Missions! Designed for between 350-400pt games (or more if you're feeling particularly brave), these missions require two Deadzone mats to be joined together. These larger missions are a great halfway house between Deadzone and its cousin Firefight – and we can't wait to see some of your larger games. Who knows, we might even run a tournament or two at HQ that use the new large missions! Stay tuned.
NEW UNITS!

Every faction gets at least one new unit! Some of these will be existing Warpath, Deadzone or even DreadBall miniatures that have been given a new lease life in Escalation. Whereas others – like the Gruntbot seen above – will be entirely new miniatures. We'll be covering all the new minis in an extra blog this week.
NEW FACTION!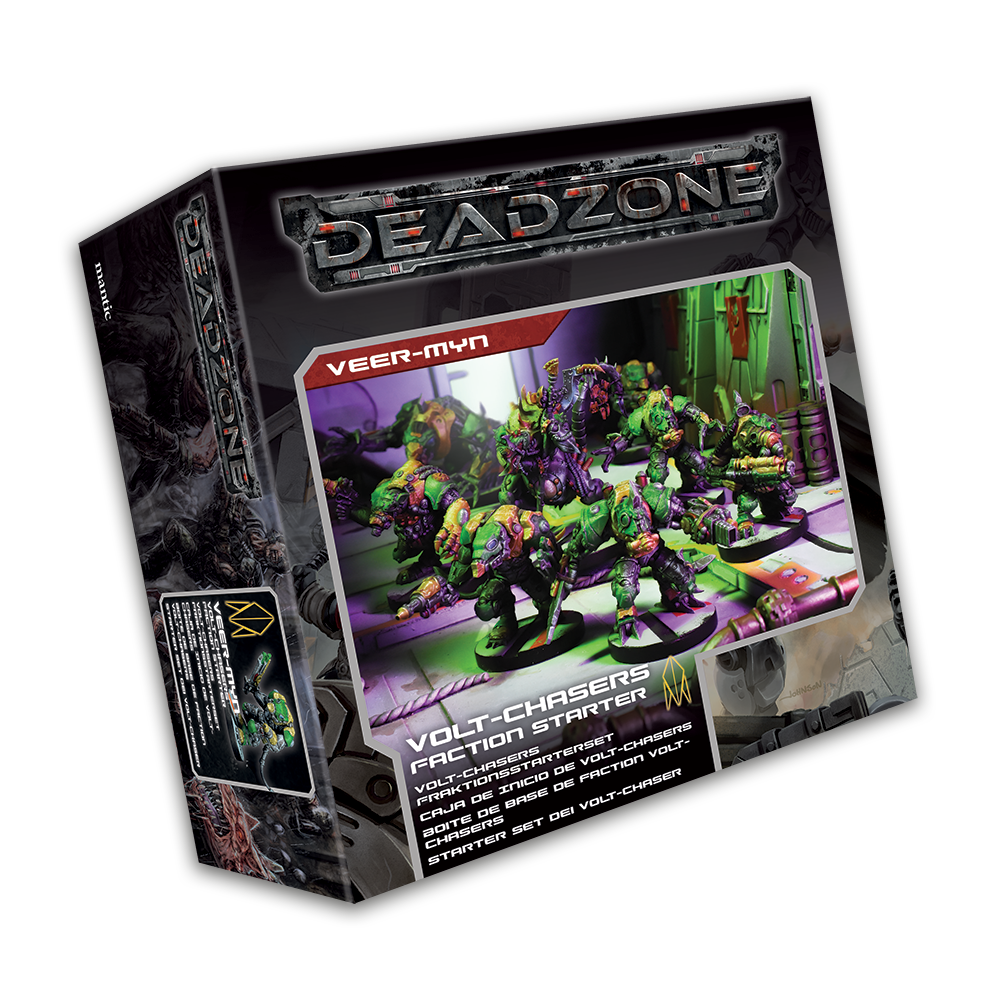 Well… kind of! The Veer-myn faction has been massively bolstered with the addition of the Volt-Chasers. These bio-engineered rats have some shocking (quite literally) new abilities and totally change the way the Veer-myn faction plays.
You can run the Volt-Chasers alongside your existing Veer-myn miniatures, or you can pick up the brand-new Volt-Chasers Faction Starter, if you only want to play as hi-tech ratties!
WHERE CAN I GET MORE SWEET ESCALATION PREVIEWS?
Good question, loyal reader! Firstly we'll have an extra blog this week showing off some of the new miniatures but from Monday (May 20th) we've been working with some great third party outlets on providing you with all the fantastic Escalation content you could possibly want. Possibly more content than you could want.
Check out the details below to see what YouTube channel or podcast you need to tune into to get a deeper preview of Escalation.
Mercs faction and Enforcers (aka the Howlett episode)
Multi-mat campaigns and interactive scenery
Veer-myn, GCPS and Rebs
Mazon Labs, Nameless and Plague
Asterians, Marauders and Forge Fathers
We'll be sharing all this excellent, world-class coverage across social media to make sure you don't miss a thing! Plus, make sure you head to the Mantic website from Monday to order all your Escalation goodness.
The post Deadzone Escalation Preview appeared first on Mantic Blog.