Gen Con is always a bit nostalgic for me. You see, I've been attending for a long time now, standing outside the hall doors with a mass of people, eager to get in and see all of the new games and releases, rub shoulders with the designers, and talk to the artists.
Seven Gen Cons ago (officially a Convergence of Cyriss time reference), I was standing in line to grab a Hyperion Colossal that was being prereleased. I had driven overnight to grab this model and to hand out business cards. While standing in line, I met Matt Wilson…a couple of times…and I had nothing to show him, despite my friends assuring him I was a pretty good artist. Alas a missed opportunity—the dream of sculpting from his art was missed. (Okay, that may be a little too much kissing up.)
Time travel forward…
I always thought it would be cool to see one of my sculpts as the Gen Con RAM model, and that excitement has never faded. I still remember when I was assigned my very first RAM model, the Blighted Bather—the concept was great and it had the rubber Shredder ducky!
Some of my favorite WARMACHINE art was created by Matt Wilson (not kissing up this time, I swear), and I've had the privilege to sculpt from some of his iconic pieces such as Wraith Witch Deneghra and a previous RAM model, Bloody Buccaneer Skarre. Every year I look forward to seeing what this year's model will be and if I will get to work on it. Well, fortune favored me once again this year as Matt was doing the concept art for this year's model, and Ron Kruzie assigned it to me.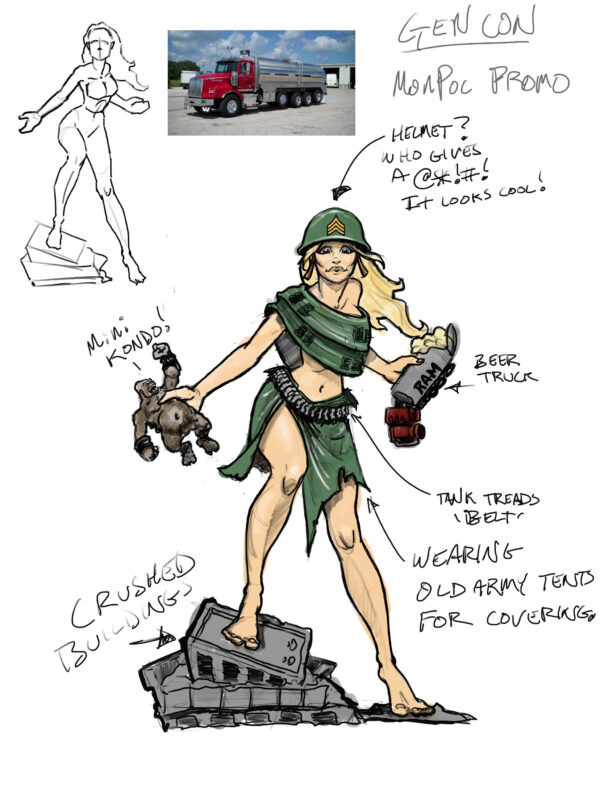 This year we are making Sgt. Titanica, an alt sculpt of the new "monster" Titanicus for our Monsterpocalypse game and the first addition to the new Green Fury faction. MonPoc has always struck me as a throwback to the classic monster flicks I grew up on—beasts smashing into each other, buildings being crushed, and humanity fighting or aiding these colossal beasts, some of which are 50-foot-tall classics! Luckily for most of you, the classics I grew up on have evolved into some amazing movies that are nearly equal to the monsters fights I created with action figures on my grandma's back porch.
At first glance, Sgt. Titanica was a little intimidating for a couple of reasons. I've always said one of the things I like about Matt's concepts is that they are simple yet characterful, the same style I try to emulate as a sculptor and one of the reasons I really love to work from his art. And the fact that we're taking a human and bumping her scale waaaaay up means you have to be aware of how it will translate into a miniature. I would also have few places to use armor to hide bad sculpting decisions, as Sgt. Titanica had literally outgrown her uniform (except her helmet, of course).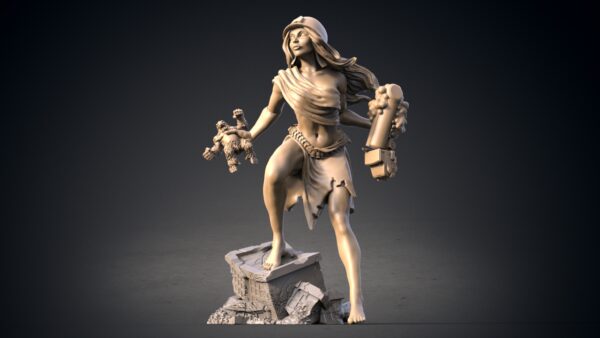 My first look at the physical sculpt of Sgt Titanica was the week before Lock & Load GameFest. I was able to track her down as she was being readied for production. Thankfully, she turned out just right: proportions looked good, facial features had captured the style from the concept art, her beer truck looked good….
Whew.
The final step is the painted version by studio painter Jordan Lamb—as I write this, I've only seen the start of the paint job, so your first look at the fully painted model will likely be my first look as well! Jordan was off to a great start when I took my last peek, and he mentioned he really enjoyed the sculpt, which is always a great compliment considering how often members of the studio give each other a hard time!
I hope everyone enjoys Sgt. Titanica. Be sure to grab a copy from the Privateer Press booth at Gen Con (booth #429). While you're there, be sure to say hi to me and the rest of the crew!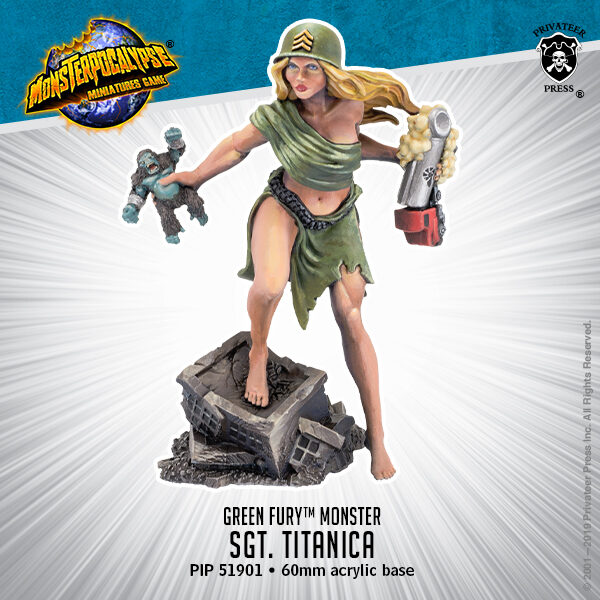 See you in Indy!