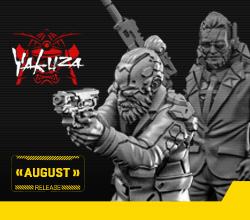 Bad boys do it better – Yakuza by UNIT9
Bad boys do it better – Yakuza by UNIT9
---
Continuing the topic of August novelties, we are presenting other characters that will be available next month. The models are absolutely unique. Each of the characters is designed with attention to detail and is a small work of art. 100% cyberpunk.
The members of the evil syndicate gather for the annual meeting of the heads of the yakuza clans. Each group comes with armed to the teeth, cyborg bodyguards. With access to the latest technology, the support of politicians, and links to big business, few are able to face these shock troops. It is said that the most powerful Japanese corporation, Nakamura, finances some of the clans. But it is unknown which specific branch.
Join our Patreon – www.patreon.com/unit9 and get exclusive content as well as July release Punk's not dead.
Stay safe
UNIT9