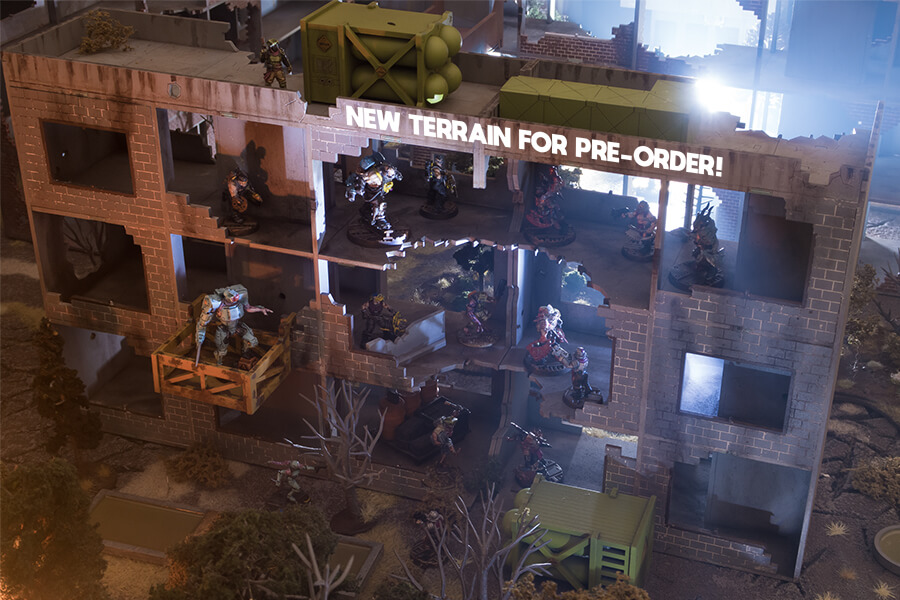 New 28-35mm Modern Ruins MDF Terrain by Brutal Cities
New 28-35mm Modern Ruins MDF Terrain by Brutal Cities
---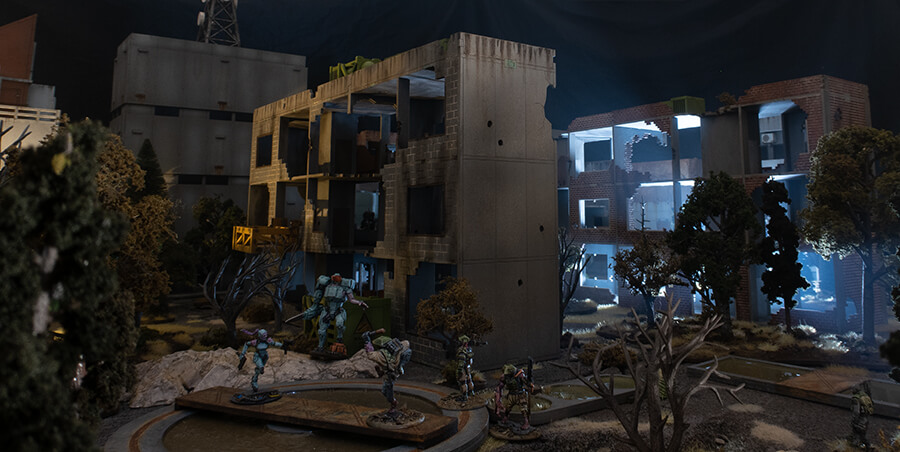 Lead your troops and fight floor to floor in the new modern ruins MDF terrain from Brutal Cities!
New 28-35mm modern ruins and other terrain kits are available for pre-order from Brutalcities.com
Just like the Easy Access Range by Brutal Cities, the new ruins are designed with playability gameplay in mind. These realistic kits balance playability and practical concerns – no more stacking multiple fiddly levels that slow down your game. Easily customise your ruins with the placement of the wall panels to fit your environment.
Modern 28mm Ruins Terrain
Modern architecture typically uses a reinforced concrete system. The strongest part of the building is the concrete lift core, and the concrete slabs and columns. If masonry is used, it is often thinner and just a facade. So unlike the WWII ruins, the concrete construction remains after the walls are blown out.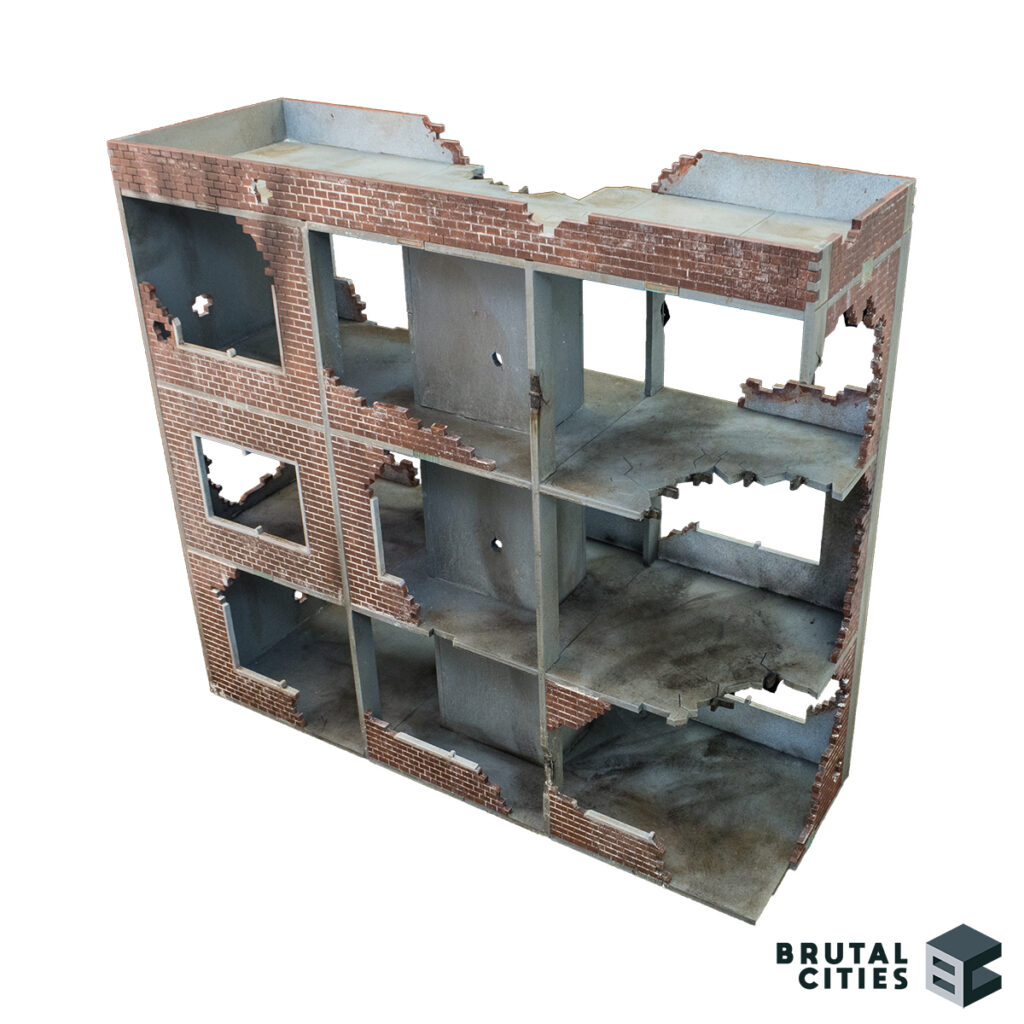 Brutal Cities announces two new massive ruin kits – Modern Ruins MDF Terrain. These MDF kits portray a more realistic construction method for modern and sci-fi wargaming, reflecting the actual engineering of modern architecture. You can choose either brick or concrete blocks and prefab concrete as the engraved texture, with 15mm ruins coming later in the year.
Assembly is simple. To make the kits, simply connect the ground floor slab to the lift core pieces and repeat, then slide the columns in. Similar to our Easy Access kits, you don't need to remove levels during gameplay. The windows and wall pieces and height of the levels (81 mm between floors) give you plenty of space to place miniatures and fit your fingers in the building. And the ruins are narrow enough for easy access all throughout your custom build.
The wall pieces are modular – so you can place the wall sections as you see fit. You could have one side of the building or one of the buildings more intact. The other side could be more damaged with a more open facade.
The Modern Ruins MDF Terrain kits contain two buildings that can be placed together to form one long ruin. Clear each level and section with your troops! You can also place them on the table as two separate ruins for more coverage.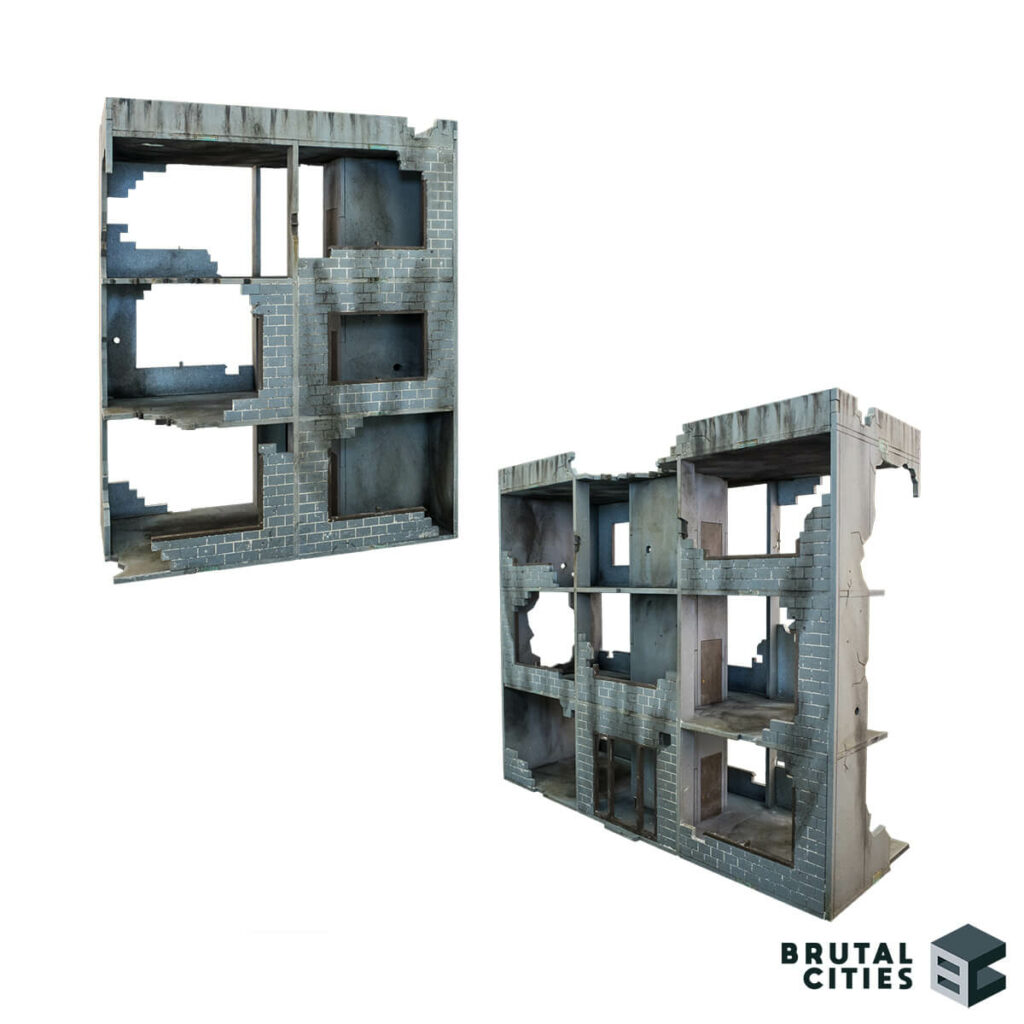 Forest Bases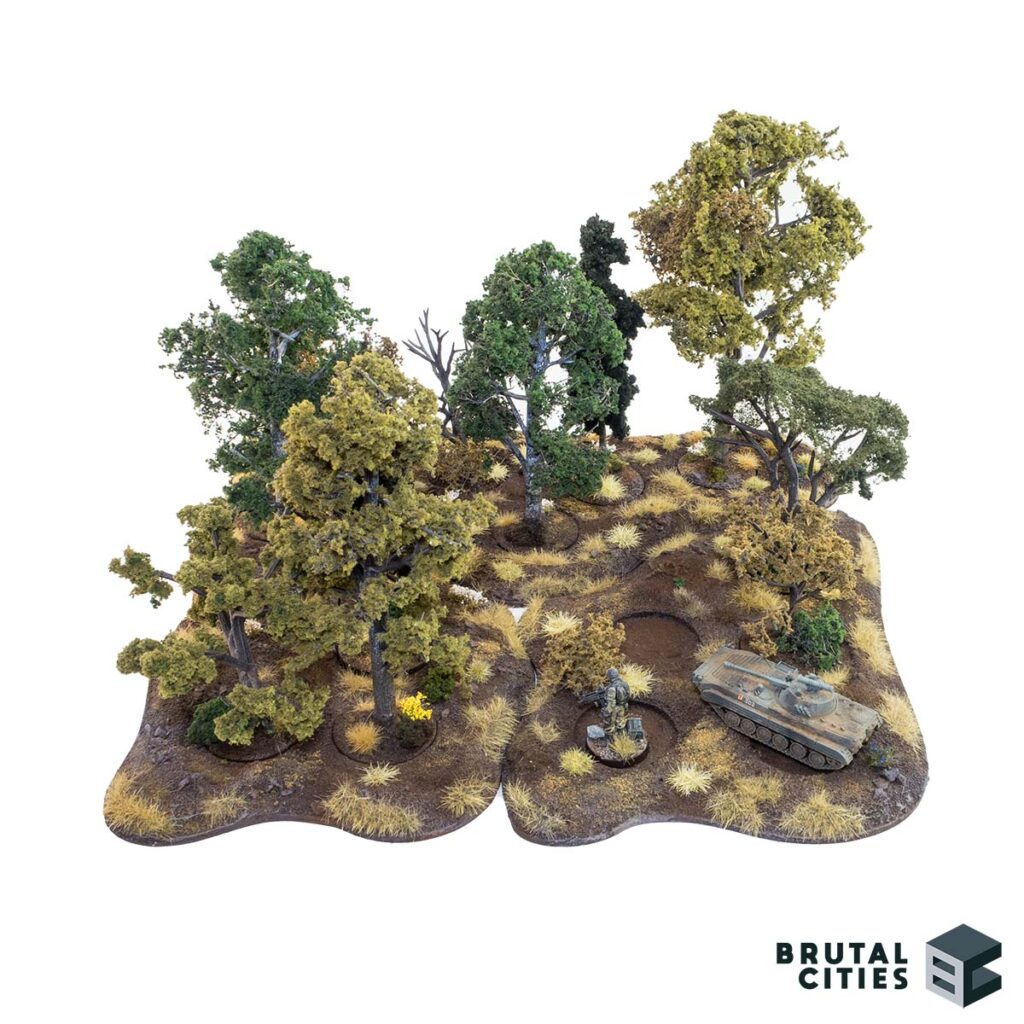 A classic easy-to-use MDF base with 40mm round sabot bases for creating forests. Combine these with the Woodland Scenics tree armature kits and you have a very playable forest!
The three forest bases are designed so they can join together into one larger forest if you want to make a deeper wood or bush. There is an offset around the edge so if you want to use some filler (like cornice cement) you can smooth out the edge to make the forest base look more natural.
Brutal Cities Now Stocks Woodland Scenics Scenery Products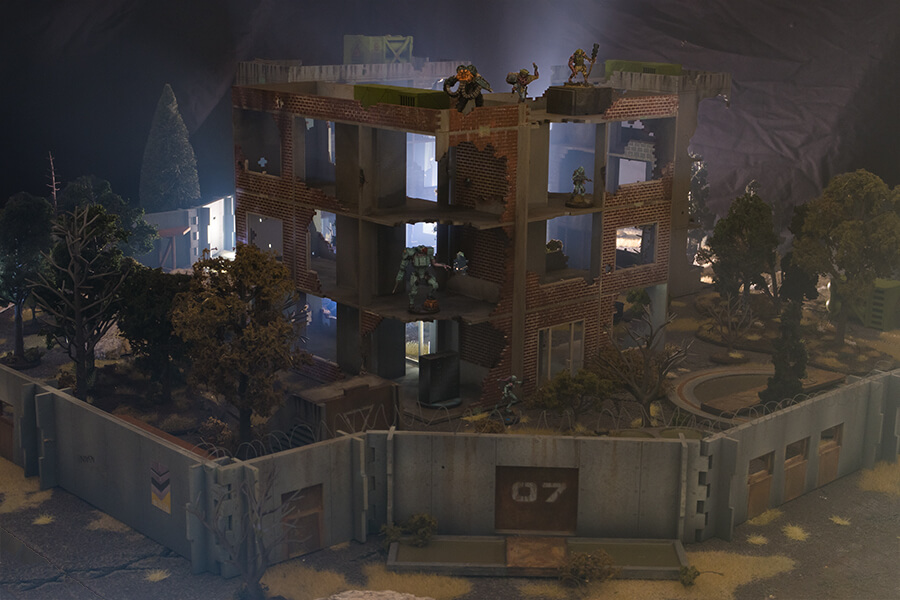 As a hobbyist, you have probably come across Woodland Scenics, but you may not have had much experience with more natural scenery products, like myself. The high quality products are ideal for people wanting realistic scenery. The products aren't always as necessary for wargaming as you'd like, so we tested their range and now stock the most useful products for the battleground.
The main product we were after was a durable tree armatures. Basically, it's a plastic tree that you can easily twist and turn into the sort of tree you'd like, then you can add foliage to them (or not) to match your wargaming tables.
These Woodland Scenics products make creating a Zona Alfa zone, a lush paradise garden world from the Warhammer 40k universe, or a barren wasteland full of dead trees quick and easy.
We also stock some Water effects products by Woodland Scenics to help you create dynamic rivers and water terrain.
Sewerage Treatment Plant MDF Kits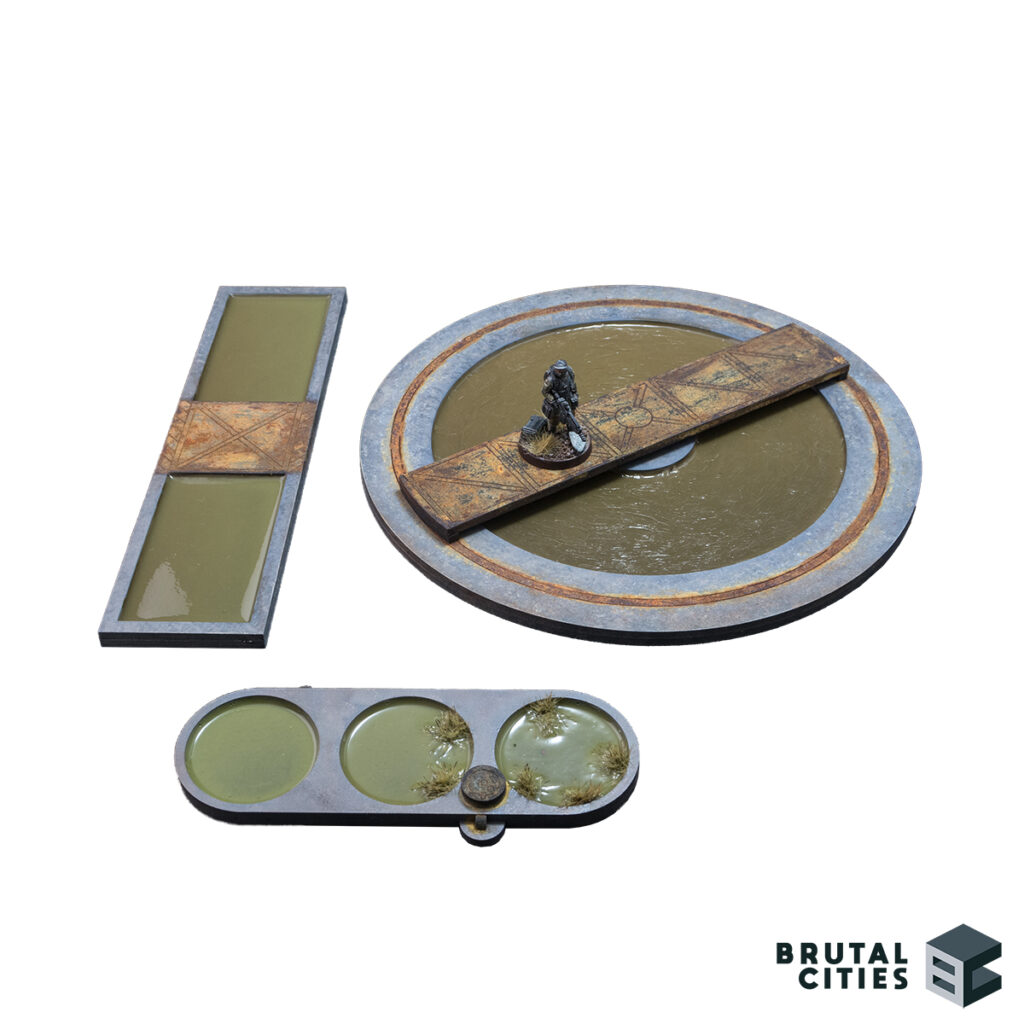 Want to push your enemies into a vat of acid or sewerage? Enter the new Sewerage Treatment Plant. These kits are inspired by the gameplay in Necromunda, but can be adapted to multiple wargames, like Infinity. Increase the stakes in your game with dangerous terrain. Brutal Cities now stock the resin to use for these kits.
Bulb Rack Storage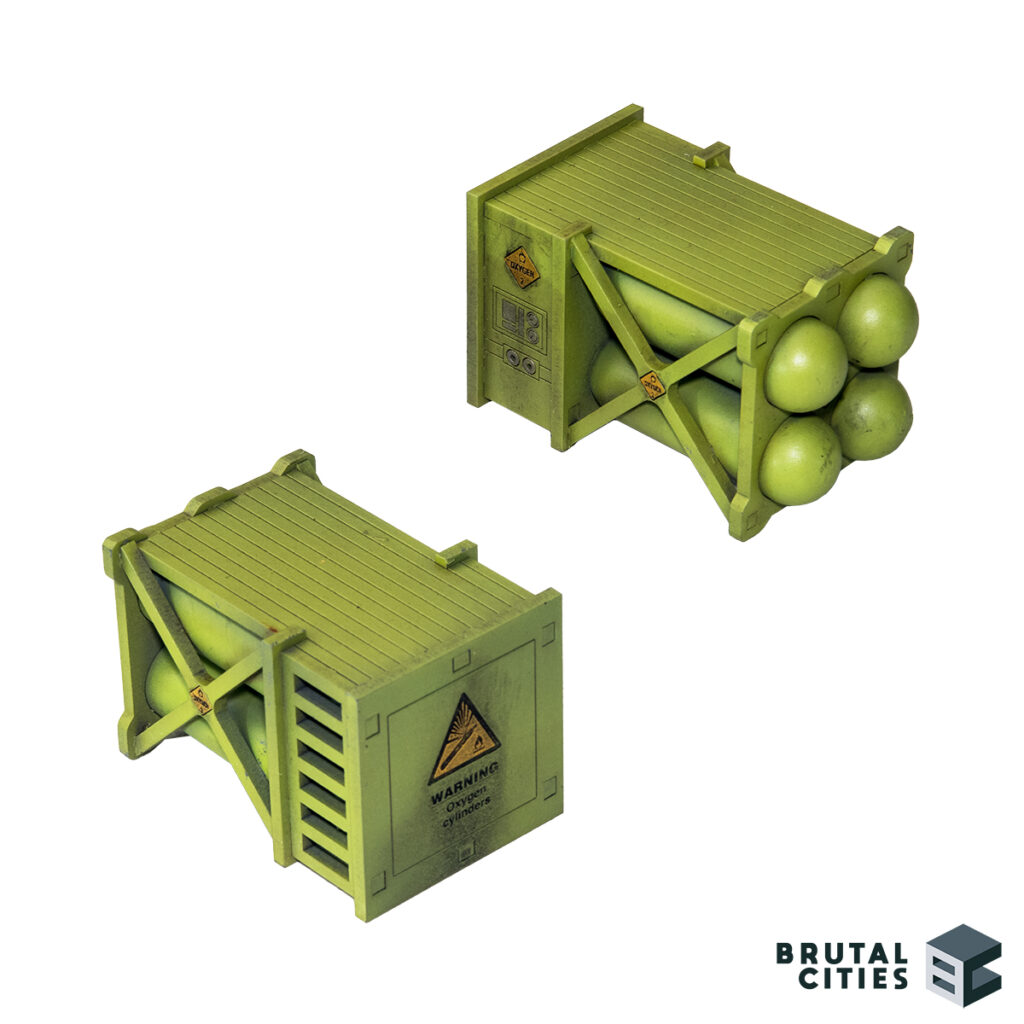 This kit contains 2 MDF scatter terrain racks designed to fit Bulb/Whipped Cream gas chargers. Steel Bulbs not included – This is a good reason to collect bulbs you find polluting the streets – turn them into terrain!
Hobby accessories
Brutal Cities will be adding some different products to our range that I personally love and use in my own hobby, and I think you will too, including:
Zap A Gap superglue – Medium Ca+ – The classic superglue. Often superglue dries out or the lid gets glued on if you buy large containers so this size is the best value I think!
Badger Stynylrez – The best primer that I have used so far for airbrushing, many of my friends agree!
(Very) Future(istic) Terrain Coming Soon
In the future we will expand the range on our website to include paint. But before we do that, I have to finish a new very unique terrain range. Definitely sign up to our email list by clicking here to make sure you don't miss out on future terrain launches!